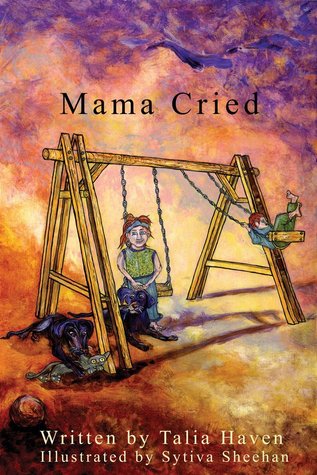 Mama Cried by Talia Haven
Publisher: Sheehan and Haven
Publication Date: January 9, 2015
Format: ebook
Source: From the Author in exchange for an honest review. This in no way altered my opinion or review of the book.
Rating:
Goodreads Synopsis:
Jenny was enjoying herself on the swings when Azula, one of the guardians of the playground came to take her away.
Together they journey to a cinder building where Jenny must make a powerful decision.
Review:
This was another short story from Talia Haven and it was a very somber one. I can't say too much about this story without giving away the whole of it so I will say what I thought overall.
Haven puts together a mysterious place and time with kids and their dogs and leads the reader on through an even more peculiar situation. I am not even sure I would actually classify this a young adult or middle grade for that matter*. It follows a young child so normally you would think it was MG but really it was a lot more hard-hitting and macabre then it seems. Too much to be understood by younger readers I think.
The ending to this story was very intense, so expect when you read to it have a few tears. It was beautiful and meaningful and over a very good deep story for something so short.
* I was informed that this is New Adult Speculative Fiction - sorry for any confusion