Source: From Netgalley and Workman Publishing Company in exchange for an honest review. This in no way alters my opinion or review.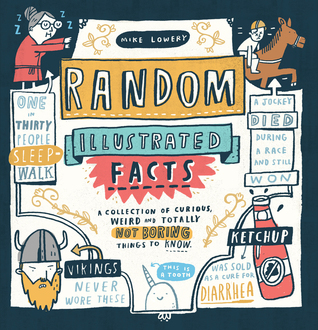 Random Illustrated Facts: A Collection of Curious, Weird and Not boring things to know by Mike Lowery
Publisher: Workman Publishing Company
Publication Date: October 31, 2017
Format: Ebook
Rating:
Goodreads Synopsis:
A collection of illustrated trivia unlike any other. From glow-in-the-dark cats to Jupiter's diamond showers to the link between dancing goats and the discovery of coffee, here are up to 100 obscure and fascinating facts brought to life in Mike Lowery's quirky, hilarious style. Each illustrated fact is paired with a handwritten web of related tidbits, recreating an entertaining dive down a trivia rabbit hole.



Review:
This was so much fun to read. I loved sharing some of these facts with my husband and friends while/after reading them and the pictures make learning it all so much more fun and easy. I think that everyone would get a kick out of this book for some reason or another.
It has different sections - History, Animals, Food, Everyday things, and Science, each were equally fun. I think the Animals section was my favorite. And I think the Food section was my least favorite - there are some facts that you just don't need to know - I may never eat jelly beans again (sad face).
It was a lot of laughs and I think even as a gift or just a coffee table book this is a great book to have.