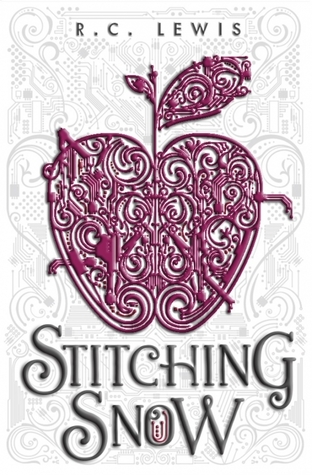 Stitching Snow by R.C. Lewis
Publisher: Disney-Hyperion
Publication Date: October 14, 2014
Format: ebook
Source:Netgalley and Disney-Hyperion in exchange for an honest review. Receiving this book in no way effects my opinion or review.
Rating:
Goodreads Synopsis:
Princess Snow is missing.

Her home planet is filled with violence and corruption at the hands of King Matthias and his wife as they attempt to punish her captors. The king will stop at nothing to get his beloved daughter back—but that's assuming she wants to return at all.

Essie has grown used to being cold. Temperatures on the planet Thanda are always sub-zero, and she fills her days with coding and repairs for the seven loyal drones that run the local mines.

When a mysterious young man named Dane crash-lands near her home, Essie agrees to help the pilot repair his ship. But soon she realizes that Dane's arrival was far from accidental, and she's pulled into the heart of a war she's risked everything to avoid. With the galaxy's future—and her own—in jeopardy, Essie must choose who to trust in a fiery fight for survival.
Review:
Are you a fan of Snow White? Sci-fi? Retellings? If so, Stitching Snow may be up you alley. A retelling of Snow White, set in a different galaxy where there is interplanetary war, super gadgets, and droids, this book had a little bit of everything I like in a YA book.
I have read a few other reviews of this book before I started it and I agree with many of them that it is hard to not think of Cinder by Marissa Meyer when reviewing and reading this book. Although, I really enjoyed the way this story played out.
Essie is a strong main character trying to make a name for herself repairing gadgets. Dane is a guy on a hunt for the lost princess. Little do they realize that they actually have a lot of things in common and their interactions are funny, adorable, and I really liked their story.
The plot was fast-paced but still intricate and interesting. I liked the descriptions of the different planets and their very different inhabitants and I really liked that Lewis made the princess strong, independent, and wanting change for her people (versus whiny, conceited and annoying).
I definitely enjoyed this book and it was a quick read, I am glad that this cover was so beautiful as well, otherwise I may not have known about this book.