Disclaimer: I received this audiobook from Recorded Books, Inc. and Librarything Early Reviewers program in exchange for an honest review. This in no way alters my opinion or review.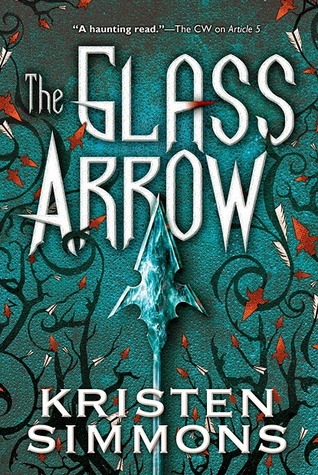 The Glass Arrow by Kristen Simmons
Publisher: Recorded Books, Inc.
Publication Date: February 10, 2015
Format: Audiobook CDs


Rating: DNF
Goodreads Synopsis:
With her wildly popular Article 5 trilogy, YA author Kristen Simmons has created an unforgettable series of dystopian thrillers. In The Glass Arrow, 15-year-old Aya lives in a world where females are so scarce they've become a lucrative commodity. Hiding away in the mountains, Aya is captured by hunters and thrust into an unimaginable fight for survival.



Review:
This book was very slow going for me. I was listening to the audio and enjoying the story but it took almost 4 full discs for the real plot to get going. These first discs were a great set up for the rest of the story though, Aya (Clover) has been taken from her home in the mountains to be sold to the highest bidder in the city. All girls are considered property to be bought, sold, disposed of as needed by the Magnates that buy them to have babies.
Aya is a strong girl from the wilderness whose only goal is to free herself from this burden and she tries many times to escape. The book is very 'girl power' and I love that about a female lead but the overall concept is so disconcerting. I feel like books have to over exaggerate the conditions for females in order to give them the power they already should have... if that makes any sense.
As for the audiobook itself, Recorded Books boasts that there are "tracks every 3 minutes for easy book marking" whereas I have found that the track lengths are actually more like 5-7 minutes long, which is still fine for book marking but a 3 minute track would be nice, especially since I am listening at work and often need to start and stop.
Although the book seemed like it was going to pick up and run with this plot, I never really felt compelled to return to it and I had been listening to it on and off for months. So at this point I am going to call it quits. I made it

over

half way (disc 6/10

)

and am still

not feeling it.