Source: From BookLook Bloggers and Zondervan in exchange for an honest review. Receiving this book in no way alters my opinion or review.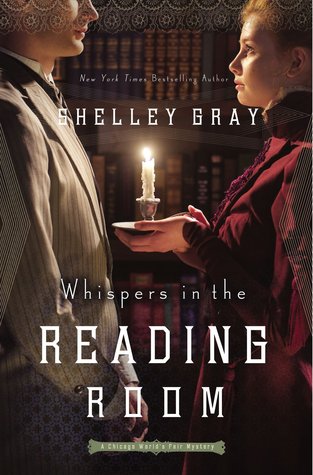 Whispers in the Reading Room by Shelley Gray
Series:Chicago's World Fair Mystery Series #3
Publisher: Zondervan
Publication Date: November 10, 2015
Format: Paperback
Rating:
Goodreads Synopsis:
Lydia's job at the library is her world—until a mysterious patron catches her eye . . . and perhaps her heart.

Just months after the closure of the Chicago World's Fair, librarian Lydia Bancroft finds herself fascinated by a mysterious dark-haired and dark-eyed patron. He has never given her his name; he actually never speaks to a single person. All she knows about him is that he loves books as much as she does.

Only when he rescues her in the lobby of the Hartman Hotel does she discover that his name is Sebastian Marks. She also discovers that he lives at the top of the prestigious hotel and that most everyone in Chicago is intrigued by him.

Lydia and Sebastian form a fragile friendship, but when she discovers that Mr. Marks isn't merely a very wealthy gentleman, but also the proprietor of an infamous saloon and gambling club, she is shocked.

Lydia insists on visiting the club one fateful night and suddenly is a suspect to a murder. She must determine who she can trust, who is innocent, and if Sebastian Marks—the man so many people fear—is actually everything her heart believes him to be.
Review:
When I requested this book I did not realize it was the third in a series, however I was surprised to find that that did not matter. It is my understanding that the mysteries all take place in the same area in the same time period but are about different characters. So Lydia and her mysterious reading room patron were a whole new story and I was immersed from the beginning.
The story is told from a lot of different points of view - Lydia, who seems to be the main character and were all the focus ends up; Sebastian, the male lead, as well as a maid and an assistant who really build on Sebastian's story and persona. I think that this was an interesting way to tell this story. Lydia is a dainty character, although very strong for what she is going through and Mr. Marks is there to be her protector whether she wants him or not. Now the other point of views really are there to lend to Mark's persona and how he became who he is and how he operates and it was refreshing almost to see other characters feel things about him. I really liked the characters interactions and how their point of views played through the tale.
Now this was supposed to be a mystery and I didn't really see anything mysterious happening. There is a murder but not until about 3/4 through the book and then it is obvious at least who had not done it. That being said, not the greatest as far as a mystery book goes but the romance was very nice.