Source: Received from Netgalley and Random House in exchange for an honest review. this in no way alters my opinion or review.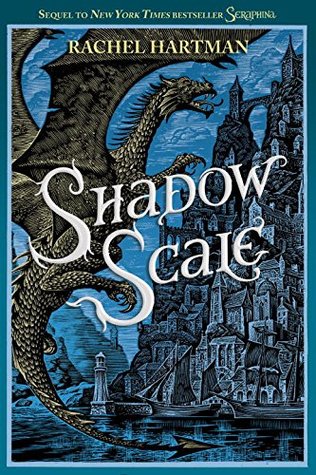 Shadow Scale by Rachel Hartman
Series: Seraphina #2
Publisher: Random House Children's Books
Publication Date: March 10, 2015
Format: Ebook
Rating: DNF @ page 11
5
Goodreads Synopsis:
Seraphina took the literary world by storm with 8 starred reviews and numerous "Best of" lists. At last, her eagerly awaited sequel has arrived—and with it comes an epic battle between humans and dragons.

The kingdom of Goredd: a world where humans and dragons share life with an uneasy balance, and those few who are both human and dragon must hide the truth. Seraphina is one of these, part girl, part dragon, who is reluctantly drawn into the politics of her world. When war breaks out between the dragons and humans, she must travel the lands to find those like herself—for she has an inexplicable connection to all of them, and together they will be able to fight the dragons in powerful, magical ways.

As Seraphina gathers this motley crew, she is pursued by humans who want to stop her. But the most terrifying is another half dragon, who can creep into people's minds and take them over. Until now, Seraphina has kept her mind safe from intruders, but that also means she's held back her own gift. It is time to make a choice: Cling to the safety of her old life, or embrace a powerful new destiny?

Review:
So, I tried to get into this book and I just couldn't. It took me a week and a half to get to the 100 page mark and there were still 487 more to go. Much like in book one, Hartman delivers a wonderfully detailed setting and it really lends to the story, however I think there was too much this time around. I had learned to love Seraphina in the first book and her character is

consistent

in book two but the plot never really pulled me back into the overal

l tale.
In this installment, Seraphina is tasked with helping save the kingdom of Goredd. She is helping by collecting the half-dragons she sees in her mind and they may be able to help if they are together. The book started off very political and combat ready but there isn't any action at this point and the plot moved too slowly for me to get into it. I wanted to love this book but I have others I needed to get to and this one

just wasn't

hol

ding my attention.
I think that if you don't mind a slow start and you enjoy epic journ

eys

and lots of characters thrown at you at once, then you will like this book. I just found it to be too much build up and not enough action in those first 100 pages - you really gotta grab

me.