Source: From HMH Books in exchange for an honest review. Receiving this book in no way alters my opinion or review.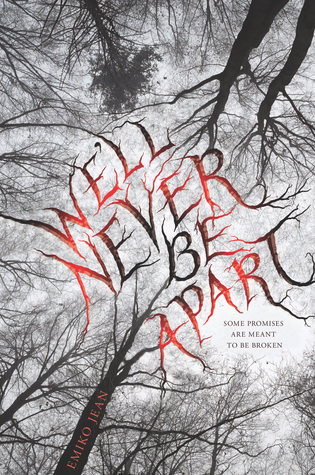 We'll Never Be Apart by Emiko Jean
Publisher: HMH Books for Young Readers
Publication Date: October 6, 2015
Format: Paperback ARC

Rating:
Goodreads Synopsis:
Murder.

Fire.

Revenge.

That's all seventeen-year-old Alice Monroe thinks about. Committed to a mental ward at Savage Isle, Alice is haunted by memories of the fire that killed her boyfriend, Jason. A blaze her twin sister Cellie set. But when Chase, a mysterious, charismatic patient, agrees to help her seek vengeance, Alice begins to rethink everything. Writing out the story of her troubled past in a journal, she must confront hidden truths.

Is the one person she trusts only telling her half the story? Nothing is as it seems in this edge-of-your-seat psychological thriller from the debut author Emiko Jean.
Review:
I was looking forward to reading this book so much. It sounded spooky and interesting and I was really getting into it as I was reading. Alice and Celia are twins who have experienced some pretty traumatic things in their lives and have been through a lot together. The have witnessed death, accidents, abuse, but all things considered they are doing ok ... for the most part. The there is a murder and Alice is getting blamed for something Celia did and she is not sure how to get herself out.
The beginning of this book was wonderfully captivating. The characters are interesting and the writing is past and present intertwined. The reader is lead through the current situation and also Alice's past and how she has gotten to this point. I was really liking the way it was going.
Then when I was talking about the books plot with my husband, he made a revelation into what the ending might contain, and it turns out he was correct. Here in lies by issue with the book - the ending was too predictable. Granted, I fell victim to this beautifully written amalgamation of past and present and wanted to believe my hubby wrong. I was disappointed with the ending and I hate admitting when he is right.