Source: Netgalley and Sourcebooks Jabberwocky in exchange for an honest review. Receiving this book in no way alters my opinion or review.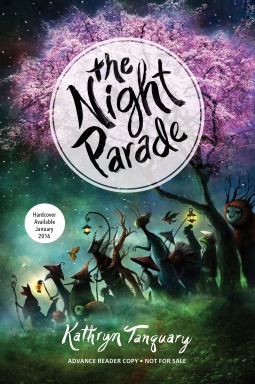 The Night Parade by Kathryn Tanquary
Publisher: Sourcebooks Jabberwocky
Publication Date: January 5, 2016
Format: Ebook
Rating:
Goodreads Synopsis:
The last thing Saki Yamamoto wants to do for her summer vacation is trade in exciting Tokyo for the antiquated rituals and bad cell reception of her grandmother's village. Preparing for the Obon ceremony is boring. Then the local kids take an interest in Saki and she sees an opportunity for some fun, even if it means disrespecting her family's ancestral shrine on a malicious dare.

But as Saki rings the sacred bell, the darkness shifts. A death curse has been invoked... and Saki has three nights to undo it. With the help of three spirit guides and some unexpected friends, Saki must prove her worth - or say good-bye to the world of the living forever.
Review:
When I first heard of this book I was super excited about it. I love Middle Grade books that try to introduce various cultures to young readers and this one definitely does that with Japanese culture and traditions.
The Night Parade follows a young girl, Saki, as she is forced to visit her grandmother and participate in the Obon ceremony. While she is there she gets herself into a lot of trouble with the ancestors and has a death curse put on her and the family. The plot follows her as she has three nights to make things right. To do so she is guided by three spirits in the spirit realm.
This book reminded me a a few things - first off , our main character is a brat - she is not very likable and the story leads the reader through her experiences as she is learning how she should be a better person. That being said, it had the feel of A Christmas Carol, with the three spirit guides and the becoming a better person aspects. It also reminded me a lot of Spirited Away, but that might just have been because it was about the spirit realm and Japanese.
I really enjoyed the plot of the book and the auxiliary characters like the guides and the spirits that Saki meets. Although, I really didn't like her and even after her 'transition' so to speak I still really didn't learn to love her as a main character. I was rooting for her the whole time but only because her actions impacted others. I found her to be brash and annoying more often than not.
This tale was a wonderful one for cultural references and learning about the Japanese culture. The fantasy was beautifully constructed and portrayed and regardless of if I like the characters, I think Middle Grade readers will really enjoy this novel.