Source: Netgalley and Poppy in exchange for an honest review. Receiving this book in no way alters my opinion or review.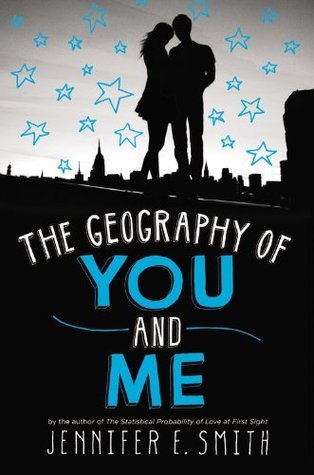 Geography of You and Me by Jennifer E. Smith
Publisher: Poppy
Publication Date: April 15, 2014
Format: Ebook
Rating:
Goodreads Synopsis:
Lucy and Owen meet somewhere between the tenth and eleventh floors of a New York City apartment building, on an elevator rendered useless by a citywide blackout. After they're rescued, they spend a single night together, wandering the darkened streets and marveling at the rare appearance of stars above Manhattan. But once the power is restored, so is reality. Lucy soon moves to Edinburgh with her parents, while Owen heads out west with his father.

Lucy and Owen's relationship plays out across the globe as they stay in touch through postcards, occasional e-mails, and—finally—a reunion in the city where they first met.

A carefully charted map of a long-distance relationship, Jennifer E. Smith's new novel shows that the center of the world isn't necessarily a place. It can be a person, too.
Review:
I have had this book sitting around in my Netgalley reading list for a while now. I was a "Read Now" title a while back when another one of Smith's books was releasing and so I picked it up. I have not read anything by Jennifer Smith before this and I had heard good things about her books.
Geography of You and Me is told from the alternating point of views of Lucy and Owen, both looking for something in their lives. Lucy looking for togetherness with her family and to travel the world and Owen to travel the U.S. with his dad after they had to leave his childhood home. There wasn't too much build up before Lucy and Owen meet and it their relationship grows as they leave each other. It was insta-love but done in a very interesting way. Lucy and Owen liked being with each other and they feel strongly for one another but they don't say the "L" word ever and in a young adult books that is a refreshing thing.
I liked the alternating point of views and the way the story weaved its way through Lucy and Owen's lives. I found the book easy to read and there were shorter chapters. I read the book in a day and it was an enjoyable book. I liked the reality of how they interacted. It was a cute, romantic, and whimsical tale.