Hello Readers, Bloggers, and Awesome people!
Wow this was a ling crazy week. I had SO much work to do and on top of being stress about that my husband had his gmail

hacked and then our Hulu account was hacked and it was a mess...
Luckily by Friday things were getting back to normal and I was relaxed

enough to actually read and not be a crazy person.
Since it is March now, that means

:
I don't have a set list of things I want to get to but I am going to try to get a bunch done :) Are you participating? Let me kn

ow in the comments.
I hope that all of YOU had a wonderful week

!
Giveaways on Cover2CoverBlog!
Coming up on the Blog...
E
arly Reader Review: American Housewife Stories by Helen Ellis (Adult)
Recent Reads: Maus I & II by Art Spiegelman (YA/GN)
Early Reader Review: Over-Scheduled Andrew by Ashley Spires (Youth)
Recent Reads: Saga Volume 2 by Brian Vaughan and Fiona Staples (GN)
Recent Reads: Party Princess (The Princess

Diaries #7) by Meg Cabot (YA)
24 Hour Readathon

with Taking Control - Saturday
Books Received this Week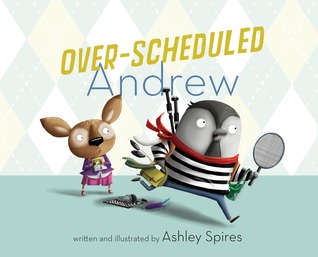 Over-Scheduled Andrew by Ashley Spires

from Librarything Early Reviewers Program and Tundra Books for Review
Have you missed anything lately

?