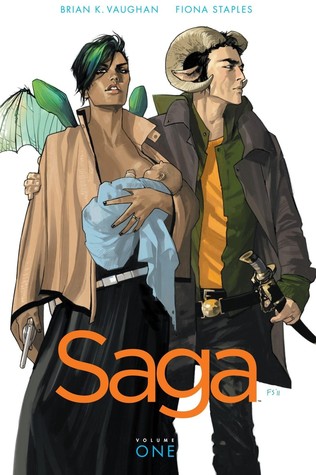 Saga Volume 1 by Brian Vaughan and Fiona Staples
Series: Saga
Publisher: Ima

ge


Publication Date: October, 2012
Format: Paperback
Source: Borrowed from the Library
Rating:
Goodreads Synopsis:
When two soldiers from opposite sides of a never-ending galactic war fall in love, they risk everything to bring a fragile new life into a dangerous old universe.

From bestselling writer Brian K. Vaughan, Saga is the sweeping tale of one young family fighting to find their place in the worlds. Fantasy and science fiction are wed like never before in this sexy, subversive drama for adults.

Collects Saga issues #1-6.
Review:
At BEA 2013 I picked up the first comic in this series and read it enthusiastically, I really enjoyed it but never brought myself to pick up the remainder of the series. Recently, everyone is talking about Saga and how absolutely wonderful it is and I knew that I had missed something big. Non-comic readers were

e

nthralled and many bloggers I follow were getting into the series too. I had to find it. Luckily for me my campus library has the first two

volumes. I devoured them.
Saga is a little bit of everything. It is sexy, violent, complex, and funny. It has everything an adult graphic novel should have. The characters are interesting, the plot is put together very well and the images themsel

ves are detailed and alluring.
The story follows a man and a women from w

arr

ing planets who fall in love and we meet them upon the birth of their child. They are running from everyone - each of their respective armies and bounty hunters alike. Telling the story is the child, Hazel, and the story is woven together as past and present and from various points of review - the parents, the army, and the hunters. This makes for a wonderful comp

ilation of information.
Loved it!