DISCLAIMER: These books may cause unease and/or emotional responses

.
Maus I: A Survivor's Tale: My Father Bleeds History by Art Sp

iegelman
Series: Ma

us #1
Publisher: Pantheon Boo

ks


Publication Date: Nov. 1991
Format: Paperback
Source: Borrowed from

the Library
Goodreads Synopsis:
A story of a Jewish survivor of Hitler's Europe and his son, a cartoonist who tries to come to terms with his father's story and history itself.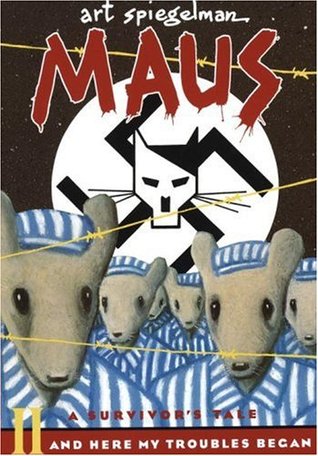 Maus II: And Here My Troubles Began by Art Sp

iegelman
Series: Maus #

2
Publisher: Pantheon Boo

ks


Publication Date: Sept.

1992
Format: Paperback
Source: Borrowed from

the Library
Goodreads Synopsis:
Acclaimed as a quiet triumph and a brutally moving work of art, the first volume of Art Spieglman's Maus introduced readers to Vladek Spiegleman, a Jewish survivor of Hitler's Europe, and his son, a cartoonist trying to come to terms with his father, his father's terrifying story, and History itself. Its form, the cartoon (the Nazis are cats, the Jews mice), succeeds perfectly in shocking us out of any lingering sense of familiararity with the events described, approaching, as it does, the unspeakable through the diminutive.

This second volume, subtitled And Here My Troubles Began, moves us from the barracks of Auschwitz to the bungalows of the Catskills. Genuinely tragic and comic by turns, it attains a complexity of theme and a precision of thought new to comics and rare in any medium. Maus ties together two powerful stories: Vladek's harrowing tale of survival against all odds, delineating the paradox of daily life in the death camps, and the author's account of his tortured relationship with his aging father. At every level this is the ultimate survivor's tale - and that too of the children who somehow survive even the survivors.
Rating:
Review:
I have been a graphic novel reader for a very long time and I always see Maus and have never picked it up. I recently saw it at my local library so I decided to give it a try. I knew going into it that this particular graphic novel causes some controversy and I wa

nted to read it to know why or make my own decisions.
Maus
is the story of a sur

vivor

of the Holocaust as told to his son through an extended interview. The book depicts the

Jewish

as mice, the Polish as pigs, and the Germans as Cats and goes back and forth between a current timeline and what was happening to Vladek (the survivor) during his experiences with the Nazi

s.
This first installment is really a build up. Artie starts talking to his father about his history and this leads to the overall tale. Vladek in this book is talking about the beginning, being in the war, coming home, having things taken, people going missing, and the events leading up to his stay in

A

uschwitz. Although

, readers don't start to hear the tales of the camps until the 2nd book.
I have to admit that this book is very deep, it is an emotional journey regardless of if it is fiction or non-fiction. Tales of the Holocaust are always emotional. It too was very sad that the author chose to depict the characters as animals - I think that these choices say a lot about how each of the groups were p

or

trayed and I feel there was some insensitivity to those groups. Everyone in Europe was

a

ffected by the Holocaust and

I think this

tal

e

is taking a very complex social dynamic and trying to fit it in a box

...

'

t

he cats were bad, the poles were no better'... and there were some that

did not stand for the injustices committed.
I think that this is an important piece of graphic novel evolution/ can

on

- it is a strong message, an emotional event, and I think that Spiegelman wrote it to be as deep as it is. It makes readers think about the horrors, but it can also make readers think about how complex the issues were by being so understated

here.