Fortunately, Th
e Milk by Neil Gaiman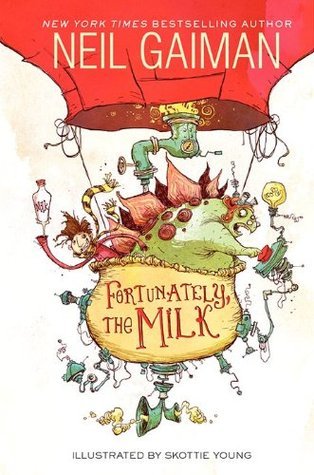 Publisher: Harper

Collins


Publication Date: September

, 2013
Format: Har

dback


Source: Borrowed from t

he Library
Rating:
Goodreads Synopsis:
"I bought the milk," said my father. "I walked out of the corner shop, and heard a noise like this: T h u m m t h u m m. I looked up and saw a huge silver disc hovering in the air above Marshall Road."

"Hullo," I said to myself. That's not something you see every day." And then something odd happened.

Find out just how odd things get in this hilarious story of time travel and breakfast cereal.
Review:
When mom leaves for a trip and dad is in charge anything can happen and in this book when dad goes out for milk - all the

crazy happens.
This was an adorable book about a trip for milk that leads to a crazy story about dinosaurs, time travel, vampires, and obviousl

y the milk.

The book is a

fantastical

story about something so simple a grocery trip and it is brought to life through

beautiful

images by Skottie Young. The plot is hilarious and over the top but the reader becomes captured in it as the dad

spins the tale to his kids.
I am so glad that I happened upon this book in the library, although this may be one that I need to add to my collection. It is wonderful and I could read it again and again. I think that young readers and their parents will really enjoy this one

.
It is a short one though so I can't go into any more detail without giving away fun bits. Definitely a fun one

!