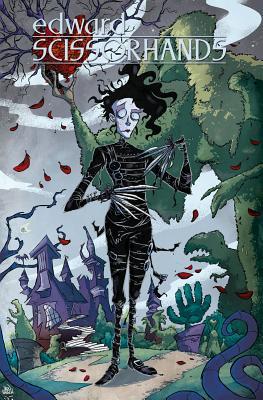 Edward Scissorhands: Parts Unknown by Kate Leth and Drew Rausch
Series: Edward Scissorhands Volume 1
Publisher: IDW Publishing
Publication Date: May 19, 2015
Format: ebook
Source: Netgalley and IDW Publishing in exchange for an honest review. This in no way effects my opinion or review of the graphic novel.
Rating:
Goodreads Synopsis:
An all-new adventure revisiting Edward Scissorhands' two decades after the end of the fan-favorite movie! In a castle just outside a sleepy suburban town, a brilliant inventor created Edward Scissorhands... but left him tragically unfinished. Two generations of exile have left Edward digging through abandoned experiments, but once he wakes up a creature left buried, he discovers he isn't the only one missing a vital piece. As Edward tries to fix a grave mistake, he comes face-to-face with a teenage girl who was sure he was only myth... despite the stories her grandmother told her about the man she could never touch.



Review:
I have always loved the Edward Scissorhands movie and I had no idea that there was a comic series out that was stepping in where the story left off. Volume 1: Parts Unknown is about Megs the granddaughter of Kim (the original teenager from the movie). Megs' mother doesn't believe the stories her mother told her about Edward and only thinks of him as a murderer.
The series focuses on both Megs as she tries to figure out more about the murder/murderer and also Edward who still resides lonely in the house on the hill.
The art is indicative of the style of the movie, dark and sharp. I found it comforting not being overly cartoon-y. I liked it a lot.
I liked what this series did but I also feel like things may have been resolved too quickly...