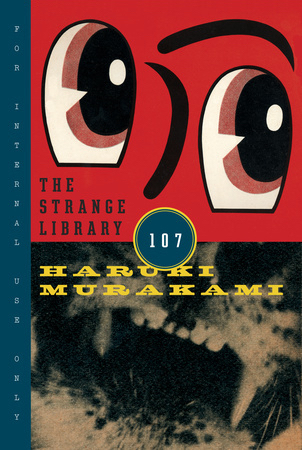 The Strange Library by Haruki Murakami
Publisher: Knoph
Publication Date: December 2, 2014
Format: Paperback
Source: Borrowed from a friend.
Rating:
Goodreads Synopsis:
From internationally acclaimed author Haruki Murakami—a fantastical illustrated short novel about a boy imprisoned in a nightmarish library.

A lonely boy, a mysterious girl, and a tormented sheep man plot their escape from the nightmarish library of internationally acclaimed, best-selling Haruki Murakami's wild imagination.
Review:
What a strange and wonderfully creative story. I have heard a lot about this author and the crazy marvelous things he does in his writing and I was not let down by The Strange Library. This short story only took me about 30 minutes to read through while having lunch and it was beautifully illustrated. Murakami's story is one of a library that holds secrets in its depths, and not just secrets of learning but of the more sinister.
A boy goes to the library for some books and is held captive by a strange old man. During his imprisonment he meets a few other unlikely characters and then the twists and turns are more pronounced.
I had a lot of questions after reading this book - mostly about how this poor boy can now never go into a library without feeling fear and entrapment. And that is NOT what you want to feel in a library (at least it isn't for me). The joys of knowledge are a wonderful thing and this story takes a macabre turn with them instead.
I really enjoyed this book in all its weird, convoluted events and will be picking up more books by this author.