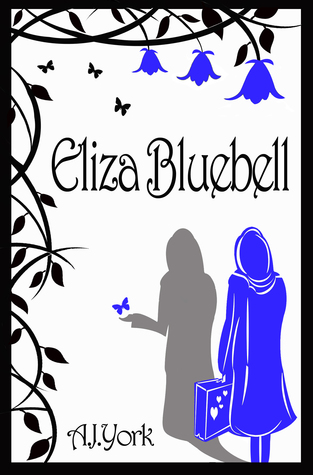 Eliza Bluebell by A.J. York
Publisher: Createspace
Publication Date: December 18, 2014
Format: ebook
Source: From the Author in exchange for an honest review. Receiving this book in no way efects my opinion or review.
Rating:
Goodreads Synopsis:
In the picture postcard village of Blossom Brook, Eliza Bluebell arrives changing the lives of the locals forever. With the help of her playful shadow, Eliza transforms an empty shop on the High Street into the heart and soul of the village. Find out how and read this fantastical story about friendship, butterflies and fairy cakes.

Reading this story is a truly magical and uplifting experience that should not be missed. Read it today!
Trailer:
Review:
This was a very cute, short, middle grade read about a mysterious magical girl who shows up in a little town and changes everyone's lives. Eliza Bluebell enters the story quite mysteriously and exits just the same, she is caring, smart, and magical. While the story was fairly short there was a lot of fun in it, shadows having minds of their own, fairies, cake and tea, friendships, relationships and an overall sense of caring and having a neighborhood come together as a family. This was a wonderfully charming book.
I think that young readers will have fun with Eliza and the townspeople and the short chapters will help with reading. A great book.