The Spider by Elise Gravel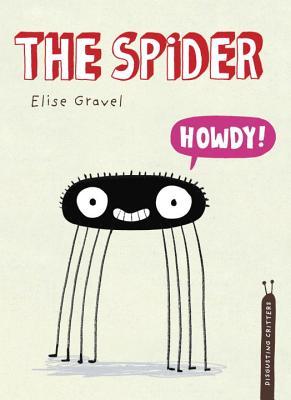 Series: Disgusting Critters
Publisher: Tundra Books
Publication Date: February 10, 2015
Format: Hardback
Source:Librarything Early Reviewers and Tundra Books in exchange for an honest review. Receiving the book in no way effects my review or opinion.
Rating:
Goodreads Synopsis:
Part of a series of hilarious nonfiction about disgusting creatures, this book looks at the spider. It covers such topics as the spider's habitats (pretty much everywhere but outer space), the silk it spins (it can trap prey and makes a nifty bowtie), and its parenting practice (female spiders carry around their eggs in a silk purse). Although silly and off-the-wall, The Spider contains real information that will both amuse and teach.
Review:
This adorable non-fiction book caught my eye for review with its fun and simple cover. A book about a spider. The little spider on the cover is cute and looked like fun - how could I resist.
This book lived up to all of my expectations, inside there is very to the point information about spiders but what makes this book great is that the spider talks to the reader throughout the book with little word bubbles - and these little blurbs are laugh-out-loud funny. For example, the spider will carry around her eggs in a silk pouch - well the image is of her carrying a purse and noting that she can fit a lipstick in there too...
I found this all so much fun. The pages themselves are bright with bold lettering and will be easy for a young reader to enjoy but also to keep a younger reader entertained if read to. I found the content to be informative and fun and I loved reading it.
This series seems like a great way to take things that scare both adults and kids alike and make them more approachable and even fun.