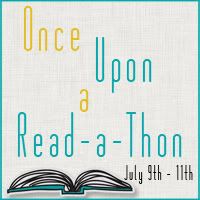 Let my vacation begin! I am super excited to have the week off, mostly because I have loads of reading time for the read-a-thon. My husband thinks I am a huge nerd right now because of my excitement and planning for this... Oh well, I'm thrilled!
Updates
July 9th
12:01am- Started Goddess Interrupted on page 206
1:45am -Finished Goddess Interrupted
Completed Between the Pages mini Challenge
2:10am- started The Goddess Legacy
3:00am- 32% done with
The Goddess Legacy
---reading is hard when you are used to being asleep at this time :/-----
Sleep 3am-9am
10am-- Mini Challenge on IB Book Blogging asked:
Question 1:
What is your favorite cover that has been revealed this summer and why? Post a link or picture of the cover if you want.
I think my favorite cover so far this summer has been for The Spindlers by Lauren Oliver. It looks so good and cute.
Question 2:
Do you rely on the cover to help you choose whether you want to read a book or not?
I normally do rely on the cover. I love art and pictures so they attract me first, if I am pulled in by a great cover, I read the synopsis. I also have a bit of an obsession about series, that all of the books have to match.
11-3pm- Finished
The Goddess Legacy
3-4:30 pm- Started and Finished
Witches 101: A Witches of East End Primer
BREAK
5:30-6pm- Started and Finished
The Dairy of the White Witch: A Witches of East End Prequel
7pm- 11:59pm- Started
Sweet Evil
to page 284
End of the day results-
Pages read: 869 + kindle edition, no pages recorded on Goodreads
# of books finished: 4
Mini Challenges completed: 2
July 10th
12am -3 am- Finished
Sweet Evil
Sleep 3:30am-11am (Late start this morning)
11:30 am- Kindle fever Mini Challenge: Once upon a time there was a bookish fight-
Once upon a time Hermione and Bella Swan got into it over who was the stronger female lead character. Bella argued that she had two guys fighting over her and a whole town obsessed with her safety, and Hermione argued that she too had 2 guy friends, that Bella's argument sucked because she couldn't take care of herself, and that if you know trouble is coming for you all the time, you should be better prepared...Hermione won the argument outright because Bella ended up in a corner hiding from her.
Noon- Started
Fix by Force
1pm- Mini Challenge at Stiletto Storytime.
Then all hell broke loose....I didn't read for the rest of the day
.
My car went to the shop for what I thought was just a software issue, turns out my transmission is about to blow, I still have money due on the car and I LOVE my car :( but it isn't safe to drive because the transmission could total blow at any second. We were quoted like 5-6,000 to replace the transmission, which we won't due because the car already has about 97K miles. Now I am figuring out money and cars and am too stressed to read. Hopefully Wednesday will get better but I may have to postpone my reading goals til Thursday / Friday.
End of the day results--
Pages read: about 200
# of books finished: 1
Mini Challenges completed: 2
July 11th
Morning!
Last day, lets see how it goes, I am super behind:
Started
Fix by Force
at 64 %
11:40 am The Reader Bee Mini Challenge- Most anticipated of 2012
Finale by Becca Fitzpatrick, out in September I think..
Magnet4 Books, Mini Challenge
End of the day results--
Pages read:
# of books finished:
Mini Challenges completed: 2