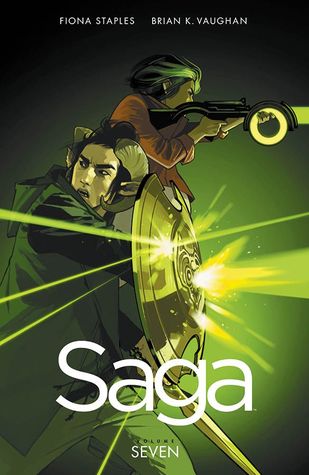 Saga Volume 7 by Brian Vaughan and Fiona Staples
Publisher: Image Comics
Publication Date: April 4, 2017
Format: Paperback
Source: Borrowed from a friend
Rating:
Goodreads Synopsis:
From the worldwide bestselling team of Fiona Staples and Brian K. Vaughan, "The War for Phang" is an epic, self-contained Saga event! Finally reunited with her ever-expanding family, Hazel travels to a war-torn comet that Wreath and Landfall have been battling over for ages. New friendships are forged and others are lost forever in this action-packed volume about families, combat and the refugee experience.

Collecting: Saga 37-42
Review:
Spoilers if you have not read the last few issues
Note: Lots of Adult Content in this one
Volume seven of this series was a very sad one, but it was very good too. Alana and Marko are together and have Hazel too. There are new characters sharing their home too and it is a mix of cultures and races working together to survive. There are some struggles though and it is a very sad issue in the last few chapters but they are holding themselves together well enough.
I am a little upset about where this issue will lead in the next one but we will see. I have enjoyed this one a lot more than the last few volumes - there was more relationship building than straight violence.