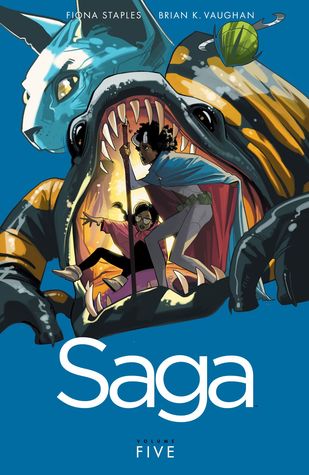 Saga Volume 5 by Brian Vaughan and Fiona Staples
Series: Saga, Collecting Issues 25-30.
Publisher: Image Comics
Publication Date: September 9. 2015
Format: Paperback
Source: Borrowed from a friend
Rating:
Goodreads Synopsis:
Multiple storylines collide in this cosmos-spanning new volume. While Gwendolyn and Lying Cat risk everything to find a cure for The Will, Marko makes an uneasy alliance with Prince Robot IV to find their missing children, who are trapped on a strange world with terrifying new enemies.

Collecting: Saga 25-30
Review:
I like this series, it is easy to read and I enjoy most of the characters... and my friend let me borrow up to Volume 8. I feel obligated to read them because I have them, but as we progress I am not as excited to read them - that might be why the ratings aren't spectacular. Anywho, in volume 5 there were so many heart wrenching parts! I was thrown all over the place emotionally.
Alana and Marko are trying to get back to each other, Prince Robot IV is doing his best to be cooperative but is looking for his kid, and Gwen is still trying to help The Will. Every storyline in this volume had an emotional part - I was completely thrown off by how deep this got and it was a little depressing overall.
I liked where it was going and still do, I am interested to see how reunions will change things for all the characters...