Source: Ebook from Netgalley and Hardback from Booklook Bloggers. This in no way alters my opinion or review.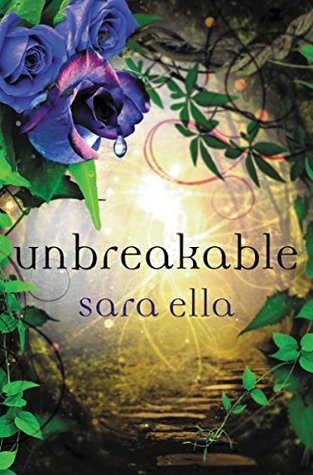 Unbreakable by Sara Ella
Series: Unblemished #3
Publisher: Thomas Nelson
Publication Date: May 1, 2018
Format: Ebook and Hardback
Rating:
Goodreads Synopsis:
Eliyana Ember is stranded in a foreign country in the Third Reflection with no passport, the inability to mirrorwalk, and zero clue where the nearest Thresholds back into the Fourth or Second might lie. Her mind is a haze, her memories vague. She knows a wormhole from the Fourth sent her here. She remembers her mom and baby brother Evan. Makai and Stormy and Joshua . . .
Deep down El realizes she must end the Void once and for all. Is there a way to trap the darkness within its current vessel, kill it off completely? To do so would mean sacrificing another soul—the soul of a man Joshua claims is a traitor. But he's lied to her before, and even El senses Joshua can't be fully trusted, but one thing is certain . . .
The Void must be annihilated. And only the Verity—the light which birthed the darkness—can put an end to that which seeks to kill and destroy.
Review:
This was a great conclusion to this fantasy Young Adult series. I hit every emotion while reading - I was shocked, crying, so excited and so upset all through this book.
This book, like the others starts out a little slow, but it builds as you read. You follow various perspectives including El, Ebony, Joshua, and Ky and travel with all of them on their journeys. El is stuck and trying to get back to her family and friends in their reflection, Joshua is stuck within himself, and Ky and Ebony are in the same reflection but on different routes to locate El and help the greater good.
The world building was still wonderful in this book, it is amazing that even in book three of this trilogy that we are learning more about this world. Along with that there were SO many twists throughout this book! Every one was more shocking than the last. I liked where this ended the series and everything came together really well.
My only dislike was that there were a lot of flashbacks that were hard to follow -were people were back together and I had missed something or it was a flashback. And sometimes I was very thrown off by whose perspective I was reading, I think I was just so engrossed in the plot that I wasn't paying enough attention to who I was reading. Which is always an issues that I have and I feel like having to have the check - in in the chapter heading it makes it difficult to keep up with the flow of the plot.
However, even with that the book was very good and it was an emotional conclusion to the series. It ended how I wanted it to with all the love and trust that needed to with the characters. If you are looking for a clean YA book series this one is a great one. (and bonus - these covers are GORGEOUS!)