So excited to be helping with this tour! Pirate books for the win. Below you will find both the review for book 2, and
if you have not picked up the series yet,

book 1. Enjoy and make sure to visit others on the tour too!
Death Doesn't Bargain by Sherrilyn Kenyon
Series: Deadman's Cross #2
Publisher: Tor Books
Publication Date: May 8, 2018
(Haven't Read Book 1? - Keep scrolling for a review of Deadmen Walking)
About the Book
Death Doesn't Bargain is the second historical fantasy title in New York Times bestselling author Sherrilyn Kenyon's Deadman's Cross series. Where Deadmen tell their tales, and every soul is damned or redeemed by the final choices they make.

The Deadmen are back...

But so are the demons who have broken free of their eternal prison and are bent on mankind's destruction. The worst of the lot is Vine, determined to claim their lives for taking hers. She will see the world burn...and has the perfect lure to destroy them all. One of their own.

Kalder Dupree has never known a day of mercy. Born to the cruelest of mer-races, he sacrificed himself for his crew and is in Vine's hands. He expects no mercy or rescue.

Yet Cameron Jack is determined to set Kalder free. As a Hellchaser, it's her calling, and she cannot allow even a not-so-innocent to be tortured for an act of kindness that spared her damnation.

To defeat evil, it sometimes takes an even worse evil, and Cameron is willing to do whatever she must to make this right. If Vine thought she had her hands full before, she hasn't seen anything nearly as powerful as Cameron's resolve.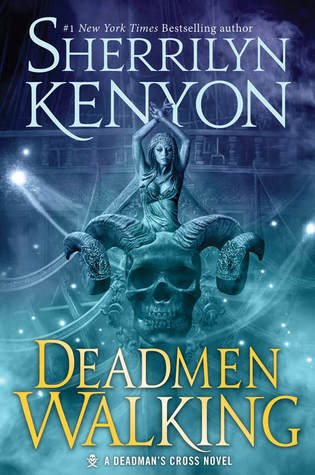 You can read the synopsis here on Goodreads for Book 1, Deadmen Walking.
The book begins with a girl named Cameron attempting to find her brother who is lost as sea and she finds herself on a ship full of demon-hunting deadmen in order to do so. That is where the story takes a turn, instead of focusing on Cameron an her story, we switch over and the main focus is about Bane, the captain and Mara, who is the ship - I know that sounds wrong, but trust me, that is what she is.
The book is full on demons and monsters and the light fighting the dark - and the dark fighting the dark and the whole thing is captured in this glorious world that the author has built. You feel in the thick of it all with the pirates and the battles and become very invested in the crew and their struggles.
The plot of this one focuses on Bane and Mara, like I mentioned, and about an evil that is after them and using Cameron's brother to do so. I loved reading about Bane and Mara and their struggles and life together, it was a complicated mess of wars and magic and bonding the two of their souls. I was already sold on this book before the Epilogue and then I was fill-on blown away by the very end. I couldn't wait to grab the next installment.
If you are into pirates, their lore, demons, good versus evil, this book is very much for you. However, be warned - this is a New Adult/ Adult novel and there is explicit content.
About the Author
New York Times and international bestselling author, Sherrilyn Kenyon, is a regular at the #1 spot. With legions of fans known as Menyons (thousands of whom proudly sport tattoos from her series and who travel from all over the world to attend her appearances), her books are always snatched up as soon as they appear on store shelves.
Since 2003, she had placed more than 80 novels on the New York Times list in all formats including manga and graphic novels. Current series are: Dark-Hunter®, Chronicles of Nick®, Deadman's Cross™, Nevermore™, Silent Swans™, Lords of Avalon® and The League®. Her books are available in over 100 countries where eager fans impatiently wait for the next release. The Chronicles of Nick® and Dark-Hunter® series are soon to be major motion pictures while Dark-Hunter®, Lords of Avalon® and The League® are being developed for television. Join her and her Menyons online at SherrilynKenyon.com and www.facebook.com/AuthorSherrilynKenyon

PHOTO CREDIT: LIZA HIPPLER
a Rafflecopter giveaway