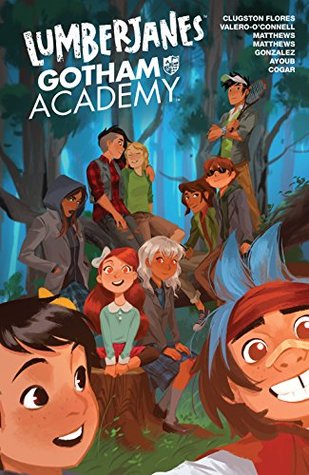 Lumberjanes Gotham Academy by Chynna Clugston Flores
Series: Lumberjanes Gotham Academy #1
Publisher: BOOM! Box
Publication Date: March 1, 2017
Format: Comic
Source: Bought/Own
Rating:
Goodreads Synopsis:
What's to Love: We adore DC's Gotham Academy and it's been on our wish list to have them somehow meet the Lumberjanes. From the great characters to the fun stories, we saw a world in which these two groups could coexist. Fast forward and here we are—the crossover event we've dreamed about and can't wait to bring to you! What It Is: Something sinister is happening at a mysterious building deep in the woods, drawing the Lumberjanes and the Gotham Academy kids separately to investigate. Is it a weird cabin? An abandoned asylum? The two groups band together to find out what exactly is going on. Featuring a connecting subscription cover by Kelly & Nichole Matthews (Toil and Trouble)!
Review:
I have read the first volume of the Lumberjanes and really liked it and I also really enjoyed this comic. It is a DC mash up with Gotham Academy, which I have not read anything about up until this point, but the Gotham kids and the Lumberjanes are teaming up to find missing people and this comic is their union and the problems that start almost immediately afterward.
The story was captivating and I love the characters so far, I think this will be a fun combination of stories to read. It is a mostly female cast and I am excited for the weird things this series will throw at the reader.