Source: Netgalley and Knoph Books for Young Readers in

exchange

for an honest review. This in no wa

y alters my opinion or review.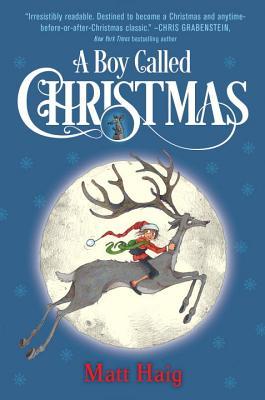 A Boy

Called Christmas by Matt Haig
Publisher:

K

noph Books for Young Readers
Publication Date: November 1

, 2016
Format: Ebook
Rating:
Goodreads Synopsis:
Before there was Santa Claus, there was a young boy who believed in the impossible. . . . Lemony Snicket meets Elf in this warmhearted Christmas caper.

Eleven-year-old Nikolas—nicknamed "Christmas"—has received only one toy in his life: a doll carved out of a turnip. But he's happy with his turnip doll, because it came from his parents, who love him. Then one day his father goes missing, and Nikolas must travel to the North Pole to save him.

Along the way, Nikolas befriends a surly reindeer, bests a troublesome troll, and discovers a hidden world of enchantment in the frozen village of Elfhelm. But the elves of Elfhelm have troubles of their own: Christmas spirit and goodwill are at an all-time low, and Nikolas may be the only person who can fix things—if only he can reach his father before it's too late. . . .

Review:
What a great way to start the holiday season. A Boy Called Christmas tells a tale about how Santa Claus came to be - it is about his life as a boy. Nikolas (aka Christmas) was a young boy who lost his mother and was living in poverty with his father when the chance of a lifetime sends his father on an adventure to track down an Elf village. When his father does not return in time, Nikolas, with the help of some animal friends, tracks his father and stumbles upon the village and all the bad things that have happen

ed.
Nikolas is a kind boy who looks for the good in all and believes in the impossible and it makes this story very fun to read. I loved reading this tale. It was an interesting story of how this boy grows up to be the Santa Claus we all know and love. The plot was enjoyable and there was more suspense than I thought there would be and the characters are very human (aside from the elves of course) and were relat

a

ble even though the st

o

ry is full of fantast

i

cal

aspects.

There are also beautiful illustrations throughout the tale to help the reader with all the whimsical details. I really enjoyed this one and highly recommend it if you are looking for a fun holiday read

.