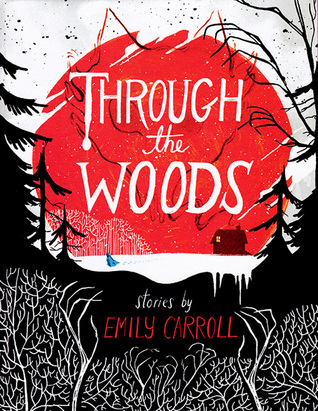 Through t

he Woods by Emily Carroll
Publisher:

Margaret K. McEldberry Books


Publication Date: July 15

,

2014
Format: Hardback
Source: Library
Rating:
Goodreads Synopsis:
'It came from the woods. Most strange things do.'

Five mysterious, spine-tingling stories follow journeys into (and out of?) the eerie abyss.

These chilling tales spring from the macabre imagination of acclaimed and award-winning comic creator Emily Carroll.

Come take a walk in the woods and see what awaits you there...
Review:
I have been seeing this book at my local library for a while now and every time for one reason or another passed it up. This week though I decided it was time and picked it up. I have seen it on various blogs that I follow and the cover is vivid and captivating although I wasn't sure what the story was about. Much to my surprise it is a collection of sho

rt tales in graphic novel form and I love that!
This book was creepy, there is no other way to put it. The stories were interesting and the endings were unpredictable and the macabre feeling of it all was wonderful. I love

d it so much.
The tales themselves were a variety of things, some about sisters, some about ghosts, some about monsters - all of them were strange and unusual and very very creepy. There is no other way to describe it. The images were also very dark and spooky feelings, I really enjoyed th

is whole package.