Source: From Netgalley and IDW Publishing in exchange for an honest review, this in no way

alters

my opinion or rev

iew.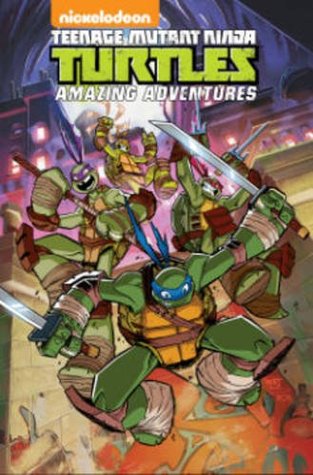 T

eenage Mutant Ninja Turtles: Amazing Adventures
Series: Amazing Adventures Volume 1
Publisher: IDW Publishing
Publication Date: March 1, 2016
Format: Ebook
Rating:
Goodreads Synopsis:
This new all-ages series of Amazing Adventures draws inspiration from the hit Nickelodean cartoon in exciting new ways, by a wide range of today's best writers and artists! Collects issues #1-4.
Review:
Any time I see TMNT anything I want to be involved. I loved them growing up and had the original action figures and loved the show and movies and the re-booting has been pretty entertaining. I have never followed any of the comics but I was interested to see wh

at this one would bring.
Amazing Adventures Volume 1

had me a bit lost, I haven't watched the new Nick

e

lodeon series or anything so that may have been my own fault, but even as issues 1-4 this seemed to jump into a bigger story that I have missed. There are a number of stories included in this volume and they are all very entertaining and enjoyable but I couldn't help but feel as if I had missed a lot of inform

ation.
Either way the characters are their normal funny selves, there are wonderful TMNT

villains

and loads of newer characters I was not familiar with but happy to see added. The various artists did a great job with the storylines and characters and I did enjoy reading it... I jest felt like I needed more back

ground to really love it.