Source: From Goodreads Giveaways and Sourcebooks in exchange for an honest review. This in no way alters my opinion or review.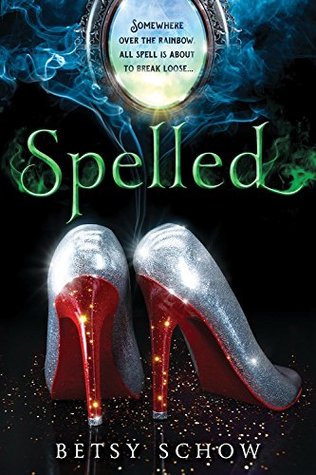 Spelled by Betsy Schow
Series:

...will be 3 books no name yet :)
Publisher: Sourcebooks Fire
Publication Date: June 2, 2015
Format: Paperback
Rating:
Goodreads Synopsis:
Fairy Tale Survival Rule #32: If you find yourself at the mercy of a wicked witch, sing a romantic ballad and wait for your Prince Charming to save the day.

Yeah, no thanks. Dorthea is completely princed out. Sure being the crown princess of Emerald has its perks—like Glenda Original ball gowns and Hans Christian Louboutin heels. But a forced marriage to the brooding prince Kato is so not what Dorthea had in mind for her enchanted future.

Talk about unhappily ever after.

Trying to fix her prince problem by wishing on a (cursed) star royally backfires, leaving the kingdom in chaos and her parents stuck in some place called "Kansas." Now it's up to Dorthea and her pixed off prince to find the mysterious Wizard of Oz and undo the curse...before it releases the wickedest witch of all and spells The End for the world of Story.
Review:
This book was so fast paced and

amazing

I can't bel

i

eve it. Spelled is about a princess who is possibly doomed to a curse put on her family so she is locked up tight in a castle. When she makes a wish that ruins all the rules of fairy tales and all the happily ever afters she is forced to brave possibly invoking her curse to rescue the world and fix what she has done. What made this book all the more interesting was that the whole thing intertwines all sorts of fairy tales together and reads a lot like the Wizard of Oz. The main characters name is Dorthea, she travels with a group, there is a wicked witch after her, and there are some almost ruby sl

ippers.
The plot was very

engaging

and kept me on my toes the entire time. At about page 50 is when the mayhem starts to set in and the book really gets going and I really appreciated that since recently I have been picking up some

slow starters.
Dorthea is a great main character, there is character growth and she is just sarcastic enough to be a typical teenager but she is strong and brave and I didn't hate her, even

when she was bratty.
This whole book was a pleasant surprise. I kind of knew what I was getting into but I didn't think I would love it so much. Schow takes these worlds that we know and so

beautifully

adapts them into her story so that they feel familiar yet different enough to keep the reader guessing. Love

d it.
If you are a fan of fairy tale retellings, you wil

l enjoy this one.