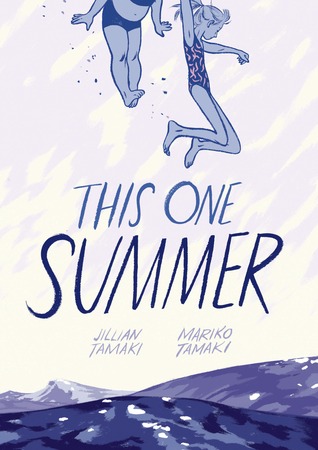 This One Summer by J

illian
T

amaki

and Mariko T

amaki
Publisher: First Second
Publication Date: May 6

,

2014
Format: Hardback
Source: Library
Rating:
Goodreads Synopsis:
Every summer, Rose goes with her mom and dad to a lake house in Awago Beach. It's their getaway, their refuge. Rosie's friend Windy is always there, too, like the little sister she never had. But this summer is different. Rose's mom and dad won't stop fighting, and when Rose and Windy seek a distraction from the drama, they find themselves with a whole new set of problems. It's a summer of secrets and sorrow and growing up, and it's a good thing Rose and Windy have each other.

In This One Summer two stellar creators redefine the teen graphic novel. Cousins Mariko and Jillian Tamaki, the team behind Skim, have collaborated on this gorgeous, heartbreaking, and ultimately hopeful story about a girl on the cusp of her teen age—a story of renewal and revelation.

Review:
I saw this book at the library and since I am participating in the 2016 Graphic Novel Challenge again, i figured I would grab it and see what it is about. The cover of my edition was plastered with awards, it was

a
2015 Caldecott Honor Boo

k and a

2015 Michael L. Printz Honor Book... so it couldn't be too

bad.
In this Young Adult graphic novel you follow a young girl names Rose - she does to the same lake house every year, but this summer is different - her parents are fighting all the time, her mother is not participating in anything, her father is frustrated, but luckily she has a friend there -

Windy.
Windy and Rose go about their summer but run into so many other dramatic events along the way and the story is

about all these dramas and being a teen trying to get through the summer.
I felt like while the characters read as very young, that the problems they were facing are truths and that young teens today deal with a lot more issues than even I encounters and MUCH more than the

ir parents.

They are growing up and this graphic showcases that

.
The images were great vivid and detailed and the message of the story was deeper than I imagined when I picked it up. Did I love it, not really, but I do think it is a captivating graphic novel for YA rea

ders.