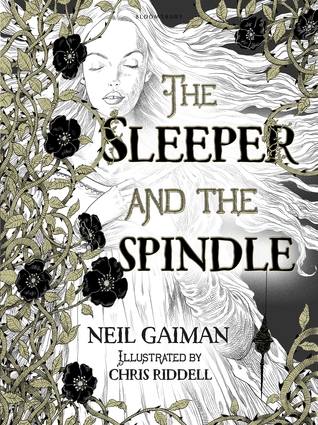 The Sleeper a

nd the Spindle by Neil Gaiman
Publisher: Bloomsbury Publishing
Publication Date: October 23, 2014
Format: Har

dback


Source: Library
Rating:
Goodreads Synopsis:
A thrillingly reimagined fairy tale from the truly magical combination of author Neil Gaiman and illustrator Chris Riddell – weaving together a sort-of Snow White and an almost Sleeping Beauty with a thread of dark magic, which will hold readers spellbound from start to finish.

On the eve of her wedding, a young queen sets out to rescue a princess from an enchantment. She casts aside her fine wedding clothes, takes her chain mail and her sword and follows her brave dwarf retainers into the tunnels under the mountain towards the sleeping kingdom. This queen will decide her own future – and the princess who needs rescuing is not quite what she seems. Twisting together the familiar and the new, this perfectly delicious, captivating and darkly funny tale shows its creators at the peak of their talents.

Lavishly produced, packed with glorious Chris Riddell illustrations enhanced with metallic ink, this is a spectacular and magical gift.

Review:
This book is

absolutely

beautiful. The story, the illustrations, all of it is gorgeous. I have seen this book around the blog-o-sphere in its pre-release from, really just as an unbound stack of papers and even then it looked amazing. My library just acquired it and I was happy to finally see it and hold it in person

.
Gaiman does a wonderful job interweaving the two classic tales of Snow White and Sleeping Beauty with a dark twist and it made for a wonderful story. Adding to that was the spectacular art throughout. I really loved the illustrations and they really added to the ta

le.
I very much enjoyed this dark and creative twist on the classics. I highly recommend for those that like illustrated books as well as those who enjoy fair

y tale retellings.