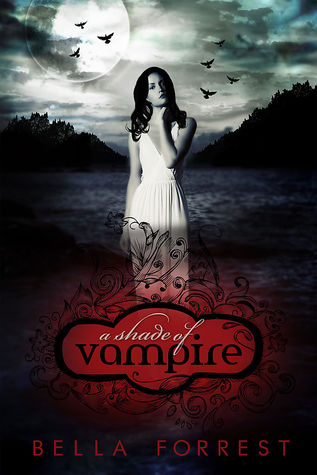 A Shade of Vampire by Bella Forrest
Series: A Shade of Vampire #1
Publisher: CreateSpace
Publication Date: December 17, 2012
Format: ebook
Source: From the Author in exchange for an honest review. This in no way alters my opinion or review of the book.
Rating:
Goodreads Synopsis:
On the evening of Sofia Claremont's seventeenth birthday, she is sucked into a nightmare from which she cannot wake.

A quiet evening walk along a beach brings her face to face with a dangerous pale creature that craves much more than her blood.

She is kidnapped to an island where the sun is eternally forbidden to shine.
An island uncharted by any map and ruled by the most powerful vampire coven on the planet. She wakes here as a slave, a captive in chains.

Sofia's life takes a thrilling and terrifying turn when she is the one selected out of hundreds of girls to join the harem of Derek Novak, the dark royal Prince.

Despite his addiction to power and obsessive thirst for her blood, Sofia soon realizes that the safest place on the island is within his quarters, and she must do all within her power to win him over if she is to survive even one more night.

Will she succeed? ...or is she destined to the same fate that all other girls have met at the hands of the Novaks?
Review:
I received this book in my email a LONG time ago and as some ebooks do they get lost in the pile of physical books toppling off your shelf since they are sitting on ereaders in the abyss. Luckily I found this one before a readathon and was DETERMINED to get to read it. It took no time at all for me to be hooked. I love vampire books, I always have, even before... well you know the series... anywho this book was wonderful.
Let's start with the plot - girl gets taken to an island of vampires where she is bound to serve the prince there - sound good so far? gets better - prince isn't as beastly as the rest and there is hope for her. (Swoon).
Now this doesn't mean that there aren't your fair share of 'oh crap did that just happen moments' because there were a good amount of them.
Here is where I would like to say that is book may be a trigger - there are scenes that do not depict rape but get pretty close and that can be hard for people to read - I know that - so there is your warning.
Sofia is the teen that is taken and she is taken as a gift for the prince, only to find that he isn't really all that bad. She is strong and confident but also does a good job playing the helpless - although I don't think enough at times.
I really enjoyed this book, the plot had wonderful ups and downs, I liked and hated characters, and I wanted more, OH SO MUCH more! I hope to read the rest of this series as soon as time allows.