Amulet: The Stonekeeper by Kazu Kibuishi
Series: Amulet Volume 1
Publisher: Scholastic
Publication Date: January 1, 2008
Format: Paperback
Source: The Library
Rating:
Goodreads Synopsis:
Graphic novel star Kazu Kibuishi creates a world of terrible, man-eating demons, a mechanical rabbit, a giant robot---and two ordinary children on a life-or-death mission.

After the tragic death of their father, Emily and Navin move with their mother to the home of her deceased great-grandfather, but the strange house proves to be dangerous. Before long, a sinister creature lures the kids' mom through a door in the basement. Em and Navin, desperate not to lose her, follow her into an underground world inhabited by demons, robots, and talking animals.

Eventually, they enlist the help of a small mechanical rabbit named Miskit. Together with Miskit, they face the most terrifying monster of all, and Em finally has the chance to save someone she loves.
Review:
This was a happy random find at my local library - it is a middle grade graphic novel series about a girls whose family is sucked into another world and now must take on the role of the Stonekeeper, a powerful hero.
This was a beautiful book, the artwork is wonderful for this book and the color schemes add to the emotion of the plot so very well. The characters are easy to follow - Emily is a pre-teen girl who has a lot of angst from her fathers passing, Navin is her brother who is young but strong, and their mother only makes a quick appearance in this installment but she is the reason this all began and they are trying to help her.
This was a fun filled, action-packed adventure fantasy that I think all young readers will enjoy - there is something for everyone.
Also cute website: https://www.scholastic.com/amulet/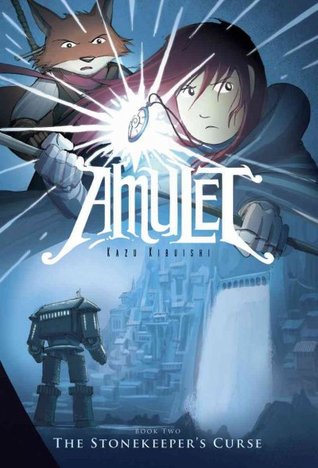 Amulet: The Stonekeeper's Curse by Kazu Kibuishi
Series: Amulet Volume 2
Publisher: Scholastic
Publication Date: September 1, 2009
Format: Paperback
Source: The Library
Rating:
Goodreads Synopsis:
In this thrilling sequel to AMULET #1: THE STONEKEEPER, Emily and her brother Navin head for Kanalis, a beautiful and mysterious city of waterfalls, where they hope to find the antidote for the poison that felled their mother. That cure lies in the eggs of a giant serpent atop Demon's Head Mountain, but the kids' archenemy, Trellis, is headed for the peak, too. A battle that will engulf all of Kanalis is looming. It's up to Em to triumph over evil while controlling the amulet's power . . . without losing herself!



Review:
Volume 2 in this series was just as good as the first - Emily and Navin are trying to put everything back together after being sucked into a new world and the friends that they have met are trying to help. I don't want to get into too much detail thus ruining the series for anyone who wants to grab it - and you should.
What is great about graphic novels is that you have two mediums - words and pictures to visualize the story with. While I love creating images/ settings in my head from details- sometimes all I want is the dialogue and these beautiful books are perfect for those days. They get right into the action without feeling like plot has been left behind.
This book jumps right in, there is a lot more battle in this one than the last and you start to get a good feel for the grandness of Emily's mission. She seems to be handling it well - at least for now.
Another great showing from this series and I leap right into book three.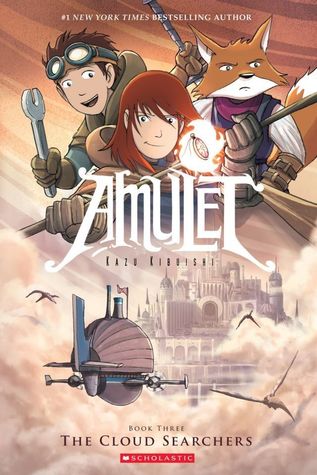 Amulet: The Cloud Searchers by Kazu Kibuishi
Series: Amulet Volume 3
Publisher: Scholastic
Publication Date: September 1, 2010
Format: Paperback
Source: The Library
Rating:
Goodreads Synopsis:
AN IMPOSSIBLE JOURNEY WITH DANGER AT EVERY TURN...

Emily, Navin, and their crew of resistance fighters charter an airship and set off in search of the lost city of Cielis. There they hope to find help from the Guardian Council's powerful Stonekeepers. It's a mission that Alledia's survival depends on, and time is running out--Emily's got to find Cielis before the Elf King finds her.

Review:
I am so drawn to these books now, I can't wait to get back to the library to grab the next few in the series. Again action-packed adventure - new alliances are made and there is so much more to this world and the characters as it progresses - I am loving the world building.
Volume three continues with Emily's story progression and we learn a lot of new awesome things about the characters and the world they are in, can't wait to read on. I am finding myself drawn to the weirdest of characters - maybe not even the good guys - can't really tell yet.