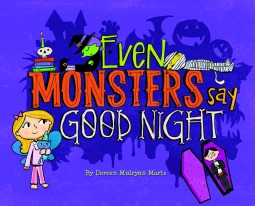 Even Monsters Say Goodnight by Doreen Mulryan Marts
Publisher: Capstone
Publication Date: August 1, 2015
Format: ebook
Source:From Netgalley and Capstone in exchange for an honest review. This in no way has altered my review or opinion of the book.
Rating:
Goodreads Synopsis:
It's bedtime, and Avery hates bedtime. She is positive that there are monsters under her bed, especially on Halloween. Where else would all of those monsters sleep? After a thorough discussion with her mom about the monster situation, Avery finally goes to her room. Does she dare check under the bed? A mix of story text and speech bubbles blend seamlessly in this humorous bedtime tale that both parents and children will relate to.
Review:
I saw this cover and had to read this adorable book. As a fan of Halloween year round, much like Avery, the main character - I was so excited to get the chance to read it.
Avery is a young girl who does not want to go to bed - there are monsters. So her mother explains that all the monsters are in bed too. The book is a cute question and answer session between Avery and her mother about all the monsters.
This would be a wonderful book for kids that don't want to go to bed due to bumps in the night. I found the story adorable and think that it is relatable to kids and parents alike and is a fun book with bright and engaging images.