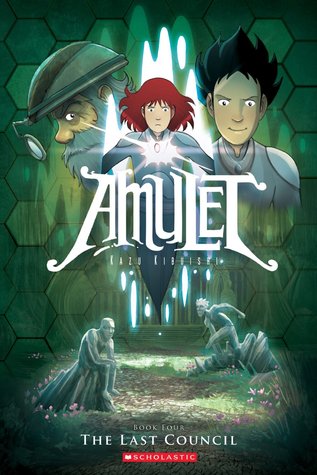 Amulet: The Last Council
Series: Amulet Volume 4
Publisher: Scholastic
Publication Date: September 2011
Format: Paperback
Source: Library
Rating:
Goodreads Synopsis:
Kazu Kibuishi's thrilling, NEW YORK TIMES bestselling series continues!

Emily and her friends think they'll find the help they need in Cielis, but something isn't right. Streets that were once busy are deserted, and the townspeople who are left live in crippling fear. Emily is escorted to the Academy where she's expected to compete for a spot on the Guardian Council, the most powerful Stonekeepers. But as the number of competitors gets smaller and smaller, a terrible secret is slowly uncovered--a secret that, if left buried, means certain destruction of everything Emily fights for.

Review:
AH, all the twists! This volume of Amulet was intense and kinda scary. Emily is forced to make decisions about how she wants to use her power and who to trust now that she has it - this has been a recurring theme through the series so far, but in this installment allies and enemies are not as they seem.
I really enjoyed this book ans read it all in one sitting. Emily is becoming a stronger character and learning her limitations, she is gaining a strong following of allies and she is really tries to do what she thinks is right. This book is super action packed and will keep your heart racing as you read and I think that makes for a wonderful story.