Source: From Netgalley and Delacorte Press in exchange for an honest review.

T

his in no way alters my

opinion or review.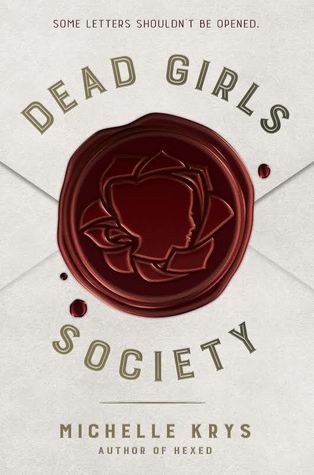 Dead Girls Society by

Michelle Krys
Publisher: Delacorte Press
Publication Date:

November 8, 2016
Format: Ebook

Rating:
Goodreads Synopsis:
You are cordially invited to participate in a game of thrills and dares. Tell no one, and come alone. If you dare.

Hope is sick of everyone treating her like she's breakable. Sure, she has cystic fibrosis (basically really bad lungs), but she's tired of being babied by her mom and her overprotective best friend, Ethan, not to mention worrying about paying for her expensive medication and how she's going to afford college. And she's bored with life in her run-down New Orleans suburb.

When an invitation arrives from a mysterious group that calls itself the Society, Hope jumps at the chance for some excitement. This could be her ticket out. All she has to do is complete a few dares and she might win some real money.

But the Society isn't all it seems . . . and soon Hope finds that playing the game isn't a choice—it's a requirement.

Review:
This cover is completely the reason I requested this book and really with that title too... I was sold. It too me forever to read this one though, I think I just have too many ebooks chillin' in my Kindle and it is daunting. Anywho... I finally picked this one up and flew through it. I read it in maybe 2 sittings and it really had me hooked. I wanted to know who was behind the craziness

and I wanted to know if anyone was actually going to die.
The story follows Hope who is very ill, she has been stuck at home for a while and would give anything to be able to be a normal teenager, then an email appears inviting her to play a game (very much like the creepy puppet in Saw

)

. In this game, you perform a number of dares and knock off the other girls playing and eventually you win loads of money and for Hope that would really help with medical expenses... so she's in. Little does she know that there is something a lot more sinister going on with the game. Nor does she realize who is invol

ved and how.
I think that this main character is why I loved this book, she was almost always dying but really it was because of how sick she was but she kept pushing all with the end goal of helping her family and the burden she has put on them. She is such a strong female role and I really enjoyed reading through her. Now that isn't to say that she was the smartest - the whole game was super creepy and it was VERY dumb of her to play and not tell anyone but teens will be tee

ns I guess.
I think that ending of the book was a bit jumbled but came together ok - not the best ending I could have asked for but I really enjoyed the plot and all the suspen

s

e of it.