Hello Readers, Bloggers, and Awesome people!
Wow what a week... I am actually preparing this post a little early this week because my sister and her boyfriend are going to be here visiting when this normally goes live on the blog

😀
So this week I worked Mon-Wed and then had off for time with my sister we have plans to be all over NH and VT while they are here. We want to go camping but I don't know if that is going to happen. We would also like to take them up the Auto Road at Mt. Washington

(so excited).
In other news this week, I have been reading some graphic novels and I finished a Memoir as well, still trying to read books from my TBR but it is slow-going. I also knitted a bunch of scarves for this fall - I am SO ready for it to be autumn already! - and I opened an

E

tsy store for some of them

.

Since it is hot I am not making a lot right now but trying to get some up there. If you like scarves please visit - if you would prefer other colors just send a message and I may be able to he

lp 😁
I hope that all of YOU had a wonderful week

!
Giveaways on Cover2CoverBlog!
No

ne right now, more coming soon
Coming up on the Blog...
Re

cent Reads:
DC Universe Rebirth Harley Quinn #1 by Amanda Conner a

nd Jimmy Palmiotti (Comic)
Recent Reads: A Fierce and Subt

le Poison

by S

amantha

Mabry (YA) - Sorry I did not get to post this review last week, so I will post it THIS week :

)
Waiting on Wednesday
Recent Reads: Furiously Happy by Jenny Laws

on (Adult)
Re

cent Reads:
DC Universe Rebirth Harley Quinn #

2

by Jimmy Palmiotti and Amand

a Conner

(Co

mic)
Books Received this Week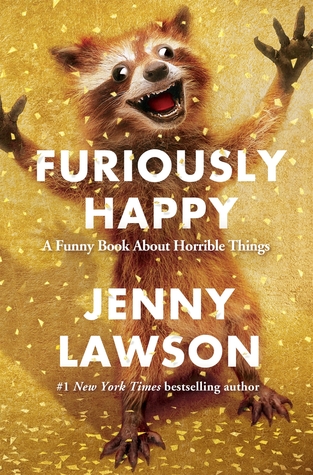 Furiously Happy by Jenny Lawson
- Bought to read for Book Club but I also love Jenny and her blog

.
DC Universe Rebirth: Harley Quinn #1 and #2 by Jimmy Palmiotti and Amanda Conner - Bought (Not on

Goodreads yet)
Have you missed anything lately

?
Week of August

14

- August 2

0