Disclaimer:I received this book from Netgalley and Little, Brown books in exchange from an honest review. This in no way alters my opinion or review.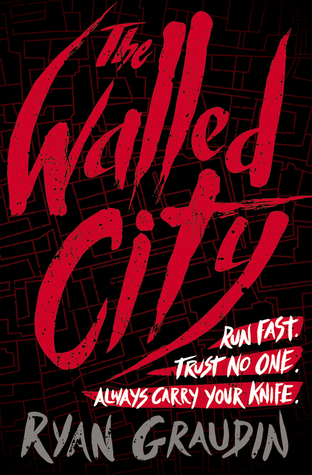 The Walled City by Ryan Graudin
Publisher: Little, Brown
Publication Date: November 4, 2014
Format: ebook
Rating: DNF
Goodreads Synopsis:
730. That's how many days I've been trapped.
18. That's how many days I have left to find a way out.

DAI, trying to escape a haunting past, traffics drugs for the most ruthless kingpin in the Walled City. But in order to find the key to his freedom, he needs help from someone with the power to be invisible....

JIN hides under the radar, afraid the wild street gangs will discover her biggest secret: Jin passes as a boy to stay safe. Still, every chance she gets, she searches for her lost sister....

MEI YEE has been trapped in a brothel for the past two years, dreaming of getting out while watching the girls who try fail one by one. She's about to give up, when one day she sees an unexpected face at her window.....

In this innovative and adrenaline-fueled novel, they all come together in a desperate attempt to escape a lawless labyrinth before the clock runs out.
Review:
I think when I started reading this book I was burnt out reading dystopia and so I never really got too invested in the characters or the plot of the book. I read up to about 20% and the stopped reading.
The synopsis of the book made it sound interesting and emotional, set in a horrible world- a walled city for criminals. What I found was a lot of mystery in the first part of the book and a lot of character point of view switches which made it harder to follow.
Since you never really spent too much time with each character I didn't really feel for any of them and their tones are all very similar so it never lended the opportunity to know them well - I kept having to retrace my reading to see who I was reading.
The plot ended up feeling like it could have been a much shorter book and so even stopping at 20% I felt like I was reading the same things over and over and it really felt more like a lawless city than a dystopian one...