Disclaimer: I won this book from Quirk Books during ArmchairBEA 2015, receiving this book in no way alters my opinion or review.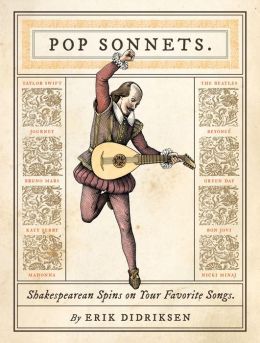 Pop Sonnets: Shakespearean Spins on Your Favorite Songs by Erik Didriken
Publisher: Quirk Books
Publication Date: October 6, 2015 TODAY!
Format: Paperback ARC
Rating:
Goodreads Synopsis:
The Bard meets the Backstreet Boys in Pop Sonnets, a collection of 100 classic pop songs reimagined as Shakespearean sonnets. All of your favorite artists are represented in these pages—from Bon Jovi and Green Day to Miley Cyrus, Beyoncé, and beyond. Already a smash sensation on the Internet—the Tumblr page has 20,000+ followers—Pop Sonnets has been featured by the A.V. Club, BuzzFeed, and Vanity Fair, among many others. More than half of these pop sonnets are exclusive to this collection and have never been published in any form.

Review:
This book guys! It is hilarious and exactly what you would expect - modern pop songs with a Shakespearean twist.
The songs have been transformed into beautifully hilarious sonnets, which are short poems, consisting of about 14 lines that follow a particular rhyme-scheme, in the Shakepearean style that scheme is a-b-a-b-c-d-c-d-e-f-e-f-g-g. Didriksen follows this form perfectly, taking the most memorable parts of modern songs and lacing them with the charm of Shakespeare's style and making them even fit into the time period.
Some of my favorites are -Eiffel 65's "Blue" (Da Ba Dee), The Fresh Prince of Bel-Air theme, and TLC's "No Scrubs" - all brilliantly done and laugh-out-loud funny. With these hits there were also a few 'meh' moments for me, I was not a big fan of some of the older song choices. I felt like if I really knew the words to a song the parodies were funnier and easier to follow.
Either way, I loved this book and it is comedy gold and I even convinced my husband to read it by laughing so hard while reading it. Also - they are even better when read aloud - just sayin'...