Disclaimer: Received from Netgalley and Disney-Hyperion in exchange for an honest review. This in no way altered my opinion or review.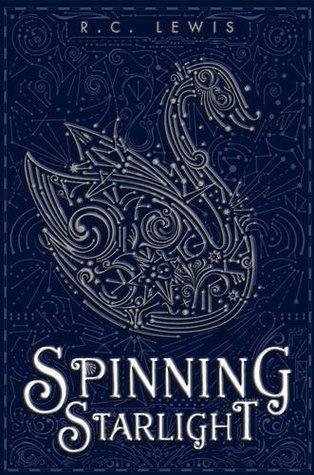 Spinning Starlight by R.C. Lewis
Series: Companion to Stitching Snow/ Retellings
Publisher: Disney-Hyperion
Publication Date: October 16, 2015
Format: Ebook

Rating:
Goodreads Synopsis:
Sixteen-year-old heiress and paparazzi darling Liddi Jantzen hates the spotlight. But as the only daughter in the most powerful tech family in the galaxy, it's hard to escape it. So when a group of men show up at her house uninvited, she assumes it's just the usual media-grubs. That is, until shots are fired.

Liddi escapes, only to be pulled into an interplanetary conspiracy more complex than she ever could have imagined. Her older brothers have been caught as well, trapped in the conduits between the planets. And when their captor implants a device in Liddi's vocal cords to monitor her speech, their lives are in her hands: One word and her brothers are dead.

Desperate to save her family from a desolate future, Liddi travels to another world, where she meets the one person who might have the skills to help her bring her eight brothers home-a handsome dignitary named Tiav. But without her voice, Liddi must use every bit of her strength and wit to convince Tiav that her mission is true. With the tenuous balance of the planets deeply intertwined with her brothers' survival, just how much is Liddi willing to sacrifice to bring them back?

Haunting and mesmerizing, this retelling of Hans Christian Andersen's The Wild Swans strings the heart of the classic with a stunning, imaginative world as a star-crossed family fights for survival in this companion to Stitching Snow.
Review:
I was so excited when I saw this book available for review on Netgalley. I loved Stitching Snow and the world that R.C. Lewis created, and the retelling as a whole. The same can be said for Spinning Starlight. Lewis takes another tale, a less known one this time, and retells it wonderfully with Liddi, Taiv, and her brothers.
This was not your typical fairy tale, in that there is an evil person out to get Liddi, but really it focused on her trying to save her family and the evildoer only has a few appearances in the plot.
Liddi is a teen in the spotlight, her family is famous and she stands to inherit the family business and fortune even as the youngest and the only girl in her family. However there is someone in the company out to get her and her brothers and so crazy things start to happen - Liddi's brothers all disappear and she has to find and save them.
The books plot was very fun, I liked the technology that Lewis incorporated throughout and I liked that the brothers while in the story really let it to Liddi to figure things out. Strong females for the win! Liddi is not your normal teen - she just wants to be left alone out of the spotlight, and she wants to solve things for herself, she is strong and a read main character.
I really enjoyed this retelling even though I didn't know the original story and can't wait for another companion in this series.