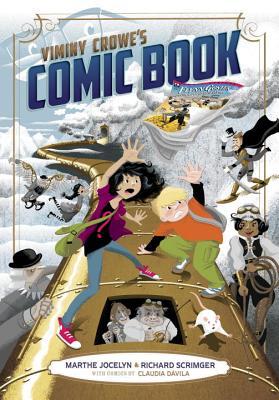 Viminy Crowe's Comic Book by Marthe Joceyln and Richard Scrimger
Publisher: Tundra Books
Publication Date: May 13, 2014
Format: Hardback Finished Copy
Source:Librarything Early Reviewers and Tundra Books in exchange for an honest review. Receiving this book in no way effects my opinions of the book.
Rating:
Goodreads Synopsis:
When chubby, geeky Wylder Wallace spills lunch on cool and aloof Addy Crowe at Toronto's Comicon, she dashes to the bathroom, leaving behind the latest issue of her uncle's steampunk comic hit: FLYNN GOSTER in GOLD RUSH TRAIN. Wylder, a fan of the Flynn comics, opens this new one eagerly, astounded to see the girl who was just yelling at him inside the comic. Fascinated, he follows Addy into the bathroom, and the adventure begins...

Is there a personality conflict? Oh, yes. Addy wants to go home; Wylder wants to stay and explore the world of Viminy Crowe's comic book. Do things go wrong? You bet they do, from the very start, when Addy loses her pet rat, Catnip, and almost gets shot by a Red Rider. All the while the actual comic book story is going on around them. The train carries a fortune from the Yukon goldfields, and both dashing Flynn Goster (hero of a thousand disguises and thief extraordinaire) and villainous Professor Aldous Lickpenny (criminal genius, aided by malevolent robots but somewhat hampered by doltish nephew Nevins) have plans to steal the gold. There's romance too -- Flynn's old flame, the brilliant aviatrix, Isadora Fortuna, is traveling across Canada with her balloon, and her strangely familiar protégée Nelly Day. Addy and Wylder navigate the story with the aid of the comic book itself. Every page turn sends them to a different setting, from the Banff Springs Hotel to an alligator-wrestling arena in Florida. But when they finally find a portal back to the real world, catastrophe follows ... A hilarious thrill-ride of a story that will have kids laughing and on the edge of their seats with every turn of the page.
Review:
The blurb for this book is pretty much spot on, Viminy Crowe's Comic Book, is about a boy and a girl that meet at a comic-con and through some strange events are thrown into the world of one of the comics there. It was a fun book to read with lots of illustrations so that the reader could follow the comic book story as well as the actual one. There were a lot of funny moments that young readers will enjoy, overall I think this book is very much built for the young reader, which is great. I enjoyed reading it, it was a decent book, but I think the age group it is meant for will love this book.
I believe that Viminy Crowe's Comic Book will speak to both girl and boy readers alike as the main characters alternate in their points of view. You can tell that Addy is thinking about the situation more logically than Wylder, and while I think that is a bit of a stereotype, I think that in the book it works well.
As for the plot, it is fun, fast-paced, and interesting. There are a lot of really great parts and some lulls, but I think that it was a fun story. I love the idea of being dropped into a comic book, but at the same time, that sounds petrifying...
I would recommend for younger readers, with the pictures, maybe even struggling readers - I think they will help; also for comic book lovers. This was a fun one but not one of my favorites this year.