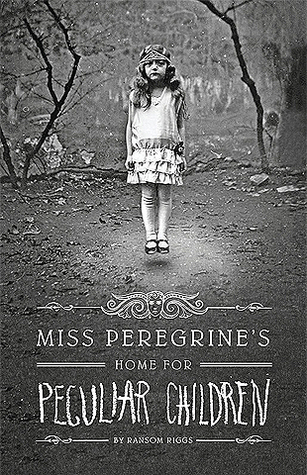 Miss Peregrine's Home for Peculiar Childre

n by Ransom Riggs
Series:
Miss Peregrine's Home for Peculiar Childre

n #1



Publisher: Quirk Books
Publication Date: June 7, 2011
Format: Paperback
Source: Borrowed from a friend
Rating:
Goodreads Synopsis:
A mysterious island. An abandoned orphanage. A strange collection of curious photographs.

A horrific family tragedy sets sixteen-year-old Jacob journeying to a remote island off the coast of Wales, where he discovers the crumbling ruins of Miss Peregrine's Home for Peculiar Children. As Jacob explores its abandoned bedrooms and hallways, it becomes clear that the children were more than just peculiar. They may have been dangerous. They may have been quarantined on a deserted island for good reason. And somehow—impossible though it seems—they may still be alive.

A spine-tingling fantasy illustrated with haunting vintage photography, Miss Peregrine's Home for Peculiar Children will delight adults, teens, and anyone who relishes an adventure in the shadows.
Review:
I have been waiting to read this book. At first I thought it was Horror so I was a bit turned off by it

because

I am a wimp... but then I realized that the blogging world and even other readers adored this book and this series. I found

myself

wanting to read it more and more and the opportunity arose when a fri

e

nd of mines started reading them. He said that he wanted to know what I thought and left the first book at my house. It was there for a little while but with the DVD/Bluray coming of the movie (which I had yet to see) I was prompted to start -

because

obviously you read the book before you see the movie - that is just the way it is right?! Well I cheated then

because

I did in fact watch the movie first and really enjoyed it. I also watched all the bonus stuff so I knew going into the bo

ok the changes that had been made. The book did not disappoint regardless.
Miss Peregrine's is a book of layered worlds, where Peculiars can exist without our time messing with them or being hunted by other creepy Peculiars trying to gain more power. It is your normal good guys/ bad guys/ want all the power kind of stories. Much like X-Men... So I was drawn into the plot and the characters although I really didn't feel all that much connection to Jacob, he seemed the rich, flakey type and I didn't really care for him. The other characters were interesting enough and I think what kept me going was the world building. I liked the idea of multiple realiti

es happening on various dates - I want to see/ read them all.
This book has so many reviews now, so there probably isn't much that I could say that would be new. I enjoyed the book - the plot, the worlds, some of the characters, I felt like it could have been a bit more polished but I also think that it lends to the book - it is strange and macabre... mostly just peculiar. I have book two - complements of the friend so I will be reading that so

on.