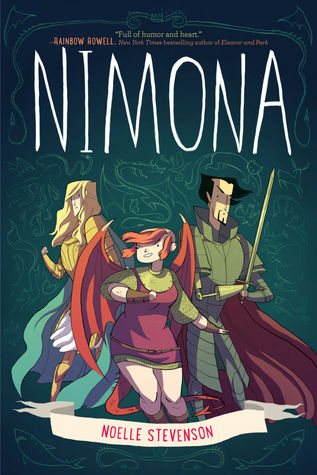 Nimona by Noelle Stevenson
Publisher: HarperTeen
Publication Date: May 1

2, 2015
Format: Hardback
Source: Borrowed from the Lib

rary
Rating:
Goodreads Synopsis:
The graphic novel debut from rising star Noelle Stevenson, based on her beloved and critically acclaimed web comic, which Slate awarded its Cartoonist Studio Prize, calling it "a deadpan epic."

Nemeses! Dragons! Science! Symbolism! All these and more await in this brilliantly subversive, sharply irreverent epic from Noelle Stevenson. Featuring an exclusive epilogue not seen in the web comic, along with bonus conceptual sketches and revised pages throughout, this gorgeous full-color graphic novel is perfect for the legions of fans of the web comic and is sure to win Noelle many new ones.

Nimona is an impulsive young shapeshifter with a knack for villainy. Lord Ballister Blackheart is a villain with a vendetta. As sidekick and supervillain, Nimona and Lord Blackheart are about to wreak some serious havoc. Their mission: prove to the kingdom that Sir Ambrosius Goldenloin and his buddies at the Institution of Law Enforcement and Heroics aren't the heroes everyone thinks they are.

But as small acts of mischief escalate into a vicious battle, Lord Blackheart realizes that Nimona's powers are as murky and mysterious as her past. And her unpredictable wild side might be more dangerous than he is willing to admit.
Review:
I was so happy to have found a copy of Nimona at my public library, I have heard so many wonderful things about it from various bloggers/ readers I follow. Nimona did not disappoint, on the surface it was a funny story about a young girl who wants to be a sidekick for the villain of all villains. She is funny and makes light of the fact that she can shapeshift into any other living thing. Going deeper this is a story about love and friendship, acceptance,

forgiveness, and past lives haunting you.
I loved this book, it made me laugh quite a bit and I love rooting for the villains most of the time anyway and this made it easy since the 'good guys' were pretty much meanies. Nimona is a smart girl who has a mission - going after the Institution and only Blackheart can help her so she teams up with him to get her job done. This graphic novel had a lot of layers to it and I think that is why it is doing so well with readers - you can read it as light, you can read it and overthink all of the intricacies that the author has put there too. It was beautifully done and I highly recommend it

.
Due to the violence, I think best for a mature mi

ddle grade audience and up.