Source: From the Author in exch

a

nge for an honest review. This in no way alters my opi

nion or review.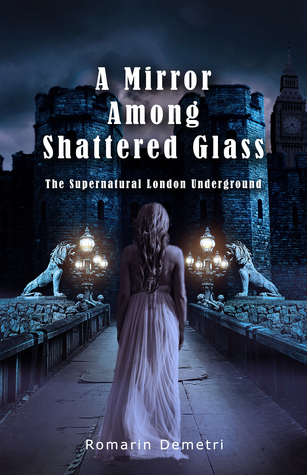 A Mirror Among Shattered Glass by Romari

n Demetri
Series: The Supernatural London Undergr

ound #1


Publication Date: June 4, 2016
Format: Ebook
Rating:
Goodreads Synopsis:
Unable to contain the deadly nature of her family secret and powers, nine-teen year old Romarin Demetri hails from California, U.S.A, to unearth her heritage as a descendant of serial-killer, Countess Bathory, the woman that lent Dracula his legend, and cursed Romarin with an appetite for blood.

Unenthusiastic about relocating to her birth city of London, a charming paranormal investigator with claim to the throne could change her mind, as he leads her to the only living and distant relative she has: a raven-haired recluse named Talia, who has taken refuge in an old castle in the heart of the city, and doesn't seem to have a heart of her own.

After a rough introduction to the lethal, inappropriate, and enchantingly sarcastic people she calls her housemates, perhaps the other misfits will be her first true friends; However, as much as these people are like her, they still have hidden vendettas, a taste for revenge, and will struggle between what is just, and what will settle their psychological upheaval. There is only one way for Romarin to become part of the Supernatural London Underground: Can she be the one who challenges them to put down their ghosts and demons and make their world together?
Review:
I received this book from the author and the synopsis was very interesting to me. I really like books about supernatural beings and liked where this one seemed to be heading. I read this book pretty quickly, which was great because I have been in a bit of a reading slump for a while.
Mirr

or
has a large cast of characters and they each have parts of the story that they tell - all seem to be supernatural but for many of them it is still a mystery as to what types of strange that they are. Romarin is the main character and most of the chapters follow her story. She is trying to learn who she is and why she has this strange life. There were a lot of questions that I have about her bacground that I thin

k

could have been addressed but weren't so maybe they are coming in later books. For example, she has been living in the US with an adoptive family and they knew she needed to drink blood to survive ... but how? so

confused about this.
Anywho, I liked Romarin and the other characters as well. Each was unique and interesting to follow. There wasn't a character that I wanted to skip past when their chapter came up - and that is awesome, normally there is one in this type of set up that I am just not feeling and I skim more

.
As for the plot, this was really the 2nd book I have read

recently

that has had a lot of build

up but no real plot

. At least with this book I could see the plot forming but there was not really too much action or climax to it. We met a lot of characters, learned about all the ways they have issues, and that problems are coming for each of them. That being said, I think that the characters were strong enough to stand without an action-packed sequence in this book.

I look forward to reading more from this author.