Source: From Netgalley and Zondervan in exchange for an honest review. This in no way alters m

y opinion or review.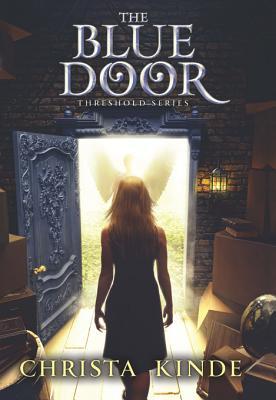 The Blue Door by Christa Kinde
Series:

Threshold #1
Publisher: Zondervan
Publication Date: November 2012
Format: Ebo

ok
Rating:
Goodreads Synopsis:
The first in a new series about 14-year-old Priscilla Pomeroy, who has the ability to see angels hidden among us, as well as the blue door that leads to the spiritual/heavenly realms. As we meet her and other characters, including behind-the-scenes angels, we learn that there is a reason Prissy can see these things, and she is a key player in a spiritual war unfolding around her.
Review:
I expected so much more from this book, and I am a little disappointed with it. This is an older book, but it has been sitting in my Netgalley for a while, it is also the start to a series. I was hoping to love this book - as I do with most things I read but th

is one fell short.
The plot of this book is that Priscilla (Prissie) can see angels and there is a reason for it... sadly we do not find out what that reason is, nor is there ANY action what-so-ever involving our main characters. We meet a bunch of angels throughout the book but none of them really do anything. I guess this being the first in a series there is a lot more to come BUT I didn't like this installment enough to continue with the series - so alas I will never k

now.
Also, Prissie reads between a 10-14 year old and that is a big age difference for a character. I kept feeling like she was a lot younger than she was supposed to be. I couldn't get a good feel for her real age and only know it because of th

e synopsis.
I think that this book might be great for someone who enjoys the lore of angels but it was not for me. I think it spent too much time referring to the Bible and to the angels faithfulness rather than creating a plot that was engaging. There really was no plot to this- yes, Prissie can see angels and yes, she meets a good amount of them but the reader

doesn't get anything other than that...

the war the synopsis mentions

is not in this book.