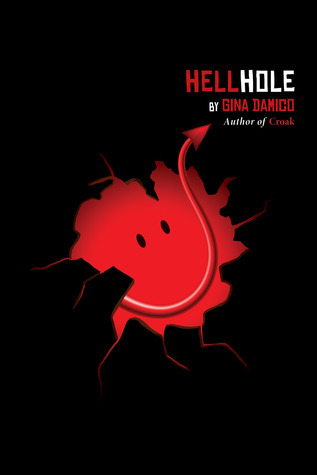 Hellhole by Gina Damico
Publisher: HMH books for Young Readers
Publication Date: January 6, 2015
Format: Paperback ARC
Source: HMH books for Young Readers in exchange for an honest review. Receiving this book in no way effects my opinion or review.
Rating:
Goodreads Synopsis:
A devil is a bad influence . . .

There was a time when geeky, squeaky-clean Max Kilgore would never lie or steal or even think about murder. Then he accidentally unearths a devil, and Max's choices are no longer his own. The big red guy has a penchant for couch surfing and junk food—and you should never underestimate evil on a sugar high.

With the help of Lore, a former goth girl who knows a thing or two about the dark side, Max is racing against the clock to get rid of the houseguest from hell before time, and all the Flamin' Hot Cheetos this side of the fiery abyss, run out.
Review:
I have yet to read the Croak series and now I feel like I absolutely have to. Gina Damico is hilarious in this book - there were so many instances that I laughed out load or snorted to myself.
The story telling was very good, I liked the build up and info about Max's life, how the author brought in other important characters and how eventually good conquers evil (or is it evil conquers evil? - you will have to read it to determine that for yourself).
Satan inspired all the feelings from me, he was funny and weird, good and understanding, and a horrible demonic presence too - I loved to hate him and hated to love him - it was a great character.
I absolutely enjoyed how the author wrote about Lore, she is my kinda girl!
Everything about this book I found great - but again I have heard that Croak is better, so I have to go grab those now :)
Happy Reading!