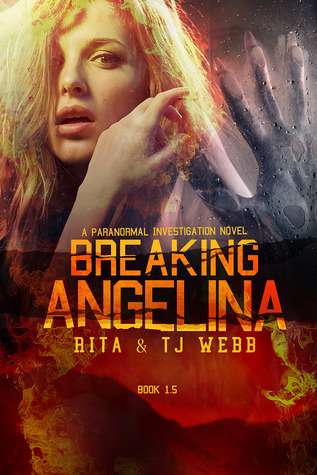 Breaking Angelina by Rita and T.J. Webb
Series: Paranormal Investigations #1.5
Publisher: Robot Playground, Inc.
Publication Date: November 2013
Format: ebook
Source: Netgalley in exchange for an honest review. This in no way effects my opinion or review of the book.
Rating:
Goodreads Synopsis:
She's the Beauty. Can the Beast break her curse before the monsters break her?

I never told anyone my darkest secret.

Something evil whispers in my mind. It threatens to destroy everything I care about, and now it wants me to kidnap and murder a mythical creature. Refusal means excruciating pain or sleepwalking into oncoming traffic ... again.

I don't dare refuse, even if I have to steal from my friends, sell my body, or ruin my college career. Anything to stop the feeling of its claws scraping the insides of my skull.

That's when I hired the Hunter, a wolf-man from a magical world, to help me. A tracker for hire, an honorable man who has misplaced his honor, a twisted soul with no heart left to care.

But he has secrets of his own, and I don't think anyone can save me from the trouble I'm in.


a New Adult dark paranormal romance
For ages 18+ due to violence, language, and some sexuality.
Review:
It has been a while since I read the first book in this series, Playing Hooky, but I remember it being light and fun and whimsical - this book was not like that. Angelina is Emma's sister and if you have read the first book in the series you know that she is also the reason for all the craziness in the first book. So first off, it was hard to put out of my head that she was the enemy when I began reading this book. This installment was much darker than the first, internal demons and the hurt of not being wanted, there was even rape and a lot of violence.
Don't get me wrong though, this was a great book. I am so glad that we got to see this story from Angelina's POV and we got more of the Hunter - who was just so mysterious in the first book. I really enjoyed reading these points of view.
Angelina is so broken and it is so depressing but she is able to eventually pull herself back and I think it will lead to a lot of good things to come for her in the rest of the series.
The Hunter is still very soft spoken in this book, but we learn a lot about why he hunts and his background and I really liked learning about his story, I think his tie in to the overall series is going to be huge! :) (Obviously just speculation from me though).
I really did like how this book dealt with the darker side of the story and I am so glad this book was written and we learn about what possessed Angelina to lash out at her sister in book 1.