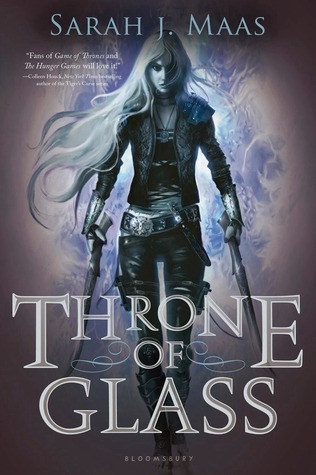 Throne of Glass by Sarah J. Maas
Series: Throne of Glass #1
Publisher: Bloomsbury
Publication Date: May 7, 2013
Format: Paperback
Source: Own
Rating:
Goodreads Synopsis:
In a land without magic, where the king rules with an iron hand, an assassin is summoned to the castle. She comes not to kill the king, but to win her freedom. If she defeats twenty-three killers, thieves, and warriors in a competition, she is released from prison to serve as the king's champion. Her name is Celaena Sardothien.

The Crown Prince will provoke her. The Captain of the Guard will protect her. But something evil dwells in the castle of glass--and it's there to kill. When her competitors start dying one by one, Celaena's fight for freedom becomes a fight for survival, and a desperate quest to root out the evil before it destroys her world.
Review:
I bought this book a while ago and put it on my shelves. After a clean up and a bookshelf move, I asked my husband what I should read next and he thought this looked fun. This is another book recently that I CANNOT believe I have owned and it took me forever to read. I knew there was hype going into it so I was skeptical but it is SO worth all the hype.
The book follows Celaena, an assassin who has been confined to a prison after being caught, who now has been chosen to play for the honor of bring the King's personal assassin. She is the prince's choice and that makes things a bit weird and complicated, but besides that the castle is also dealing with a mysterious force killing off some of the competitors.
I liked this plot so much, especially because of the strong female lead. Celaena is full of life even on the verge of death and I really loved that about her - she did everything for herself and not others and even though there might be love interests, she is there for her freedom in the end if she can obtain it.
I am not always a fan of the love triangle but it gets me in this book - both suitors are great fro different reasons - how can one choose?! I am excited to see where this leads but will be equally as happy if Celaena decides neither are to her liking and lifestyle.
I loved this book, now I need to find the money to buy the whole series,
the time to read them all in one sitting, and for my husband to read the first book so I can swoon about it in person with someone...