Source: From Netgalley and Disney-Hyperion in exchange for an honest review. This in no way alters my opinion or review.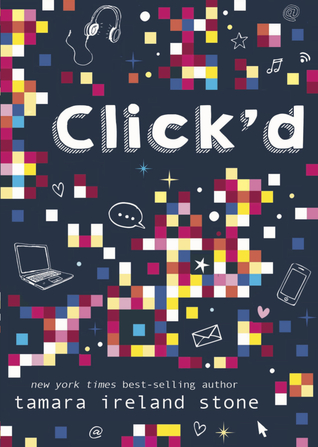 Click'd by Tamara Ireland Stone
Publisher: Disney-Hyperion
Publication Date: September 7, 2017
Format: Ebook
Rating:
Goodreads Synopsis:
Allie Navarro can't wait to show her best friends the app she built at CodeGirls summer camp. CLICK'D pairs users based on common interests and sends them on a fun (and occasionally rule-breaking) scavenger hunt to find each other. And it's a hit. By the second day of school, everyone is talking about CLICK'D.

Watching her app go viral is amazing. Leaderboards are filling up! Everyone's making new friends. And with all the data Allie is collecting, she has an even better shot at beating her archenemy, Nathan, at the upcoming youth coding competition. But when Allie discovers a glitch that threatens to expose everyone's secrets, she has to figure out how to make things right, even if that means sharing the computer lab with Nathan. Can Allie fix her app, stop it from doing any more damage, and win back the friends it hurt-all before she steps on stage to present CLICK'D to the judges?

New York Times best-selling author Tamara Ireland Stone combines friendship, coding, and lots of popcorn in her fun and empowering middle-grade debut.
Review:
I love Tamara Ireland Stone, I have been following her writing since I started blogging and I have loved all the books I have picked up by her. When I saw this Middle Grade read I jumped at the chance to read it. In this book Stone writes about Allie - a girl who codes and built an app over the summer to connect people. Things go a bit crazy, as they can with technology, and she is faced with friendship problems, technology problems, and the possibility of loosing all her hard work.
This was a great book for SO many reasons, first off - girl coder. I love this, girls can be interested in technology, but they aren't always written about for younger readers, so this was refreshing. Another wonderful thing, Allie learns a lot of lessons in this book and they keep coming as you read - the importance of friendships, trust, hard work, she encounters it all, but also the need to sometimes ask for help. Another big love for me was that even when you push forward things don't always go your way and this book was a great example of that. I think that middle grade readers need more of this in books and I think that this is a wonderful read for them.
Since I had an ebook of an advance copy my experience wasn't as cool as finished copies will be - there were images and breakdowns of the app that got a bit scrambled in my version so those will help a lot when others read the book, and the only other downer for me was that while Allie learns a lot of lessons and is a great role model for readers, I didn't really find her all that likeable, but that is just my opinion.
I do recommend this and many other books by Stone.

Reviews to other Tamara Ireland Stone books