Source: From the

A

uthor in exchan

ge for and honest

review. This in no way alters my opinion or re

view.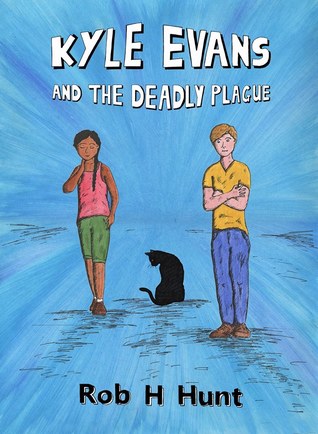 Kyle Evans and the Deadly Plague by Rob Hunt
Series: Kyle Evans #2
Publisher: Rob

Hunt


Publication Date: Novembe

r 7

, 2016
Format: Paperback
Rating:
Goodreads Synopsis:
After narrowly escaping from an alien zoo, Kyle is looking forward to a normal life once again. Unfortunately for him and his best friend Sofia, his troubles have only just begun. A blue dot that suddenly appears on his elbow signals the beginning of another crazy adventure featuring hungry Gomes, sneaky Pliskins, the mysterious Azda Fains and, of course, the cat who is not a cat – Bootles. Kyle Evans and the Deadly Plague is the second installment in the exciting Kyle Evans trilogy.



Review:
Kyle and So

fia

have contracted a deadly plague and Bootles, the alien in cat form, has to travel

in space

to cure them. That isn't easy

with

the evil Commander still

after him...
Rob Hunt does not

disappoint

with book two in the Kyle Evans series. The book is simply put 'out of this world' (pun intended) with crazy creatures, action

and adventure.

Younger readers will love this series, it is full of space, monsters, battles, and dangerous feats. It is also pretty short, with short chapters at about 140/50 pages, it is a quick and easy read f

or all ages.
You can't help but have a fondness for the crazy cat who always has a plan but also sometimes just goes for it- even if that means possible death. The humn characters are fun too, but mostly because other than their alien cat, they are pretty normal kids. I think they are relatable and they handle their situations very

well.
Hunt has a wonderful imagination and it shows in these books, the monsters and creatures sound insane but they fit. The planets and worlds he builds are just as enjoyable. Overall I think this is a wonderfully imaginative and creative sci-

fi that anyone will enjoy.
About the Author
Rob H. Hunt is the author of Flicker and Kyle Evans and the Key to the Universe. He loves to write stories about ordinary kids who find themselves in extraordinary situations, like Joel (FLICKER) who wakes up one day and discovers that nobody know who he is, or Kyle (KYLE EVANS AND THE KEY TO THE UNIVERSE) who learns that his cat is not really a cat at all.

Rob loves to read (too many books to mention!), watch TV, drive his bright red car (but not at the same time as reading or watching TV) and spend time hanging out with his family. Speaking of family, Rob lives in Connecticut with his wife, three sons and pet goldfish.
Find the Author