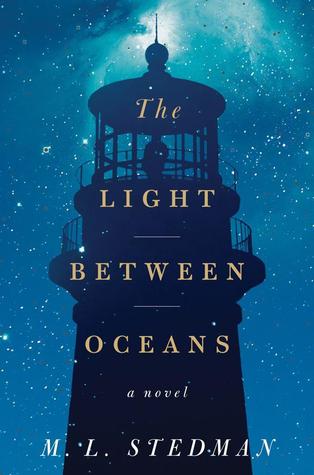 The Light Between Oc

eans by ML Stedman
Publisher: Scribner
Publication Date: July 31, 2012
Format: Hardback
Source: Borrowed from t

he Library
Rating:
Goodreads Synopsis:
After four harrowing years on the Western Front, Tom Sherbourne returns to Australia and takes a job as the lighthouse keeper on Janus Rock, nearly half a day's journey from the coast. To this isolated island, where the supply boat comes once a season and shore leaves are granted every other year at best, Tom brings a young, bold, and loving wife, Isabel. Years later, after two miscarriages and one stillbirth, the grieving Isabel hears a baby's cries on the wind. A boat has washed up onshore carrying a dead man and a living baby.

Tom, whose records as a lighthouse keeper are meticulous and whose moral principles have withstood a horrific war, wants to report the man and infant immediately. But Isabel has taken the tiny baby to her breast. Against Tom's judgment, they claim her as their own and name her Lucy. When she is two, Tom and Isabel return to the mainland and are reminded that there are other people in the world. Their choice has devastated one of them.

M. L. Stedman's mesmerizing, beautifully written novel seduces us into accommodating Isabel's decision to keep this "gift from God." And we are swept into a story about extraordinarily compelling characters seeking to find their North Star in a world where there is no right answer, where justice for one person is another's tragic loss.

The Light Between Oceans is exquisite and unforgettable, a deeply moving novel.

Review:
Ah this book... I think it was a wrong time wrong place kind of book for me... This book was voted on as my next book club read and while it seemed like an ok one to put in the voting list, I probably should have read the synopsis a bit more. I knew that going into this book there would be a good amount about

miscarriage

and I thought I could handle it, but appearently not, it threw off my enjoyment of the whole book. (If you didn't know, I have recently experienced this - and as you can tell, it is not an enjoya

ble experience).
From the start the book was slow-going for me due to my mood and then as I read, I kept getting more and more frustrated with the characters. I think that this book is meant to do that to you. The book is about a man who works as a lighthouse keeper, he gets married, his wife cannot successfully birth a child, then one shows up on their shores. They then have to make a decision - keep it, or notify the mainland. The wife pressures the husband into keeping the child and then the real world comes into view and they have made a mistake. This is one of those decisions were you are in between a rock and a hard place kind of things. After reading the beginning of this story as an emotional wreck, it was hard not to want to shake the wife into reality - even having been through the experience myself I thought she was a bit batty and non-realistic. I understood her gr

ie

f and suffering but could not get behind her jud

gement.
I think that to the right reader this could be a very moving book, but I didn't like any of the characters all too much and it was a very difficult book for me to actually make it a point to sit down and finish it. I did, but it was slo

w and rough.