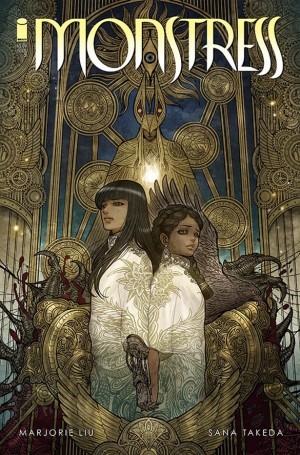 Monstress #

5

by Marjorie Liu and Sana Takeda
Series: Mon

stress #5
Publisher: Image

Comics


Publication Date:
Format: Paperback
Source: Bought
Rating:
Goodreads Synopsis:
Maika struggles with the monster inside.
Catch up on the previous reviews for this series:
Mini Review:
OOOOH another cliff-hanger ending... it kills me, cannot wait to keep reading. Maika and her companions are joined and much of this installment is about their short travel and the conversation that they have regarding the

hierarchy

of the class system and races in this world. Maika is still dealing with the monster but not really in this issue too much - so while the Goodreads synopsis is right for the overall theme it really doesn't do this issue justi

ce.
Again more amazing art in this issue. LOVING IT

!